Goodman Campbell rebuilds after split from IU Health
The plush, $17 million headquarters of Goodman Campbell Brain and Spine physician group in Carmel, with its two-story walnut-paneled wall in the lobby, decorative light fixtures and modern furnishings, stands as a survival trophy of sorts.
Just five years ago, the practice's neurosurgeons were under pressure to leave Goodman Campbell and become employees of Indiana University Health Physicians—or potentially lose their rights to practice at the state's largest hospital system and to teach and do research at the IU School of Medicine.
That could have spelled the end of Goodman Campbell, one of Indiana's oldest independent physician groups. It traces its roots back to 1972, when it was founded as the Indianapolis Neurosurgical Group, a respected practice in the high-prestige brain and spine market.
At least 18 of Goodman Campbell's roster of 35 surgeons at the time did opt to become employees of IU Health Physicians, a joint venture between IU Health and the IU School of Medicine.
But the rest stayed, determined to keep the practice thriving. And in 2019, Goodman Campbell opened its flagship campus on U.S. 31 in the Meridian Corridor, with a sign highly visible to passing traffic.
"We exited our divorce from IU, and actually, things have gone well for us since then," said Dr. Jean-Pierre Mobasser, president of Goodman Campbell.
And now, the practice is about to claim another trophy building of sorts. Its new partner, Ascension St. Vincent, is building a four-story brain and spine hospital on its flagship campus on West 86th Street in Indianapolis, which will be largely staffed with physicians from Goodman Campbell.
The new hospital will have eight operating rooms, 36 intensive-care-unit beds, and a dedicated "stepdown unit" for recovering patients.
"We are very fortunate to have earned the trust and collaboration of Goodman Campbell Brain and Spine, who have helped us formulate the vision for this new specialty hospital," Dan Parod, president of Ascension St. Vincent's central region, said at the hospital's groundbreaking in November. "They have been a great partner to Ascension St. Vincent, and through our partnership, we've already made significant advancements in neurosurgery and stroke care."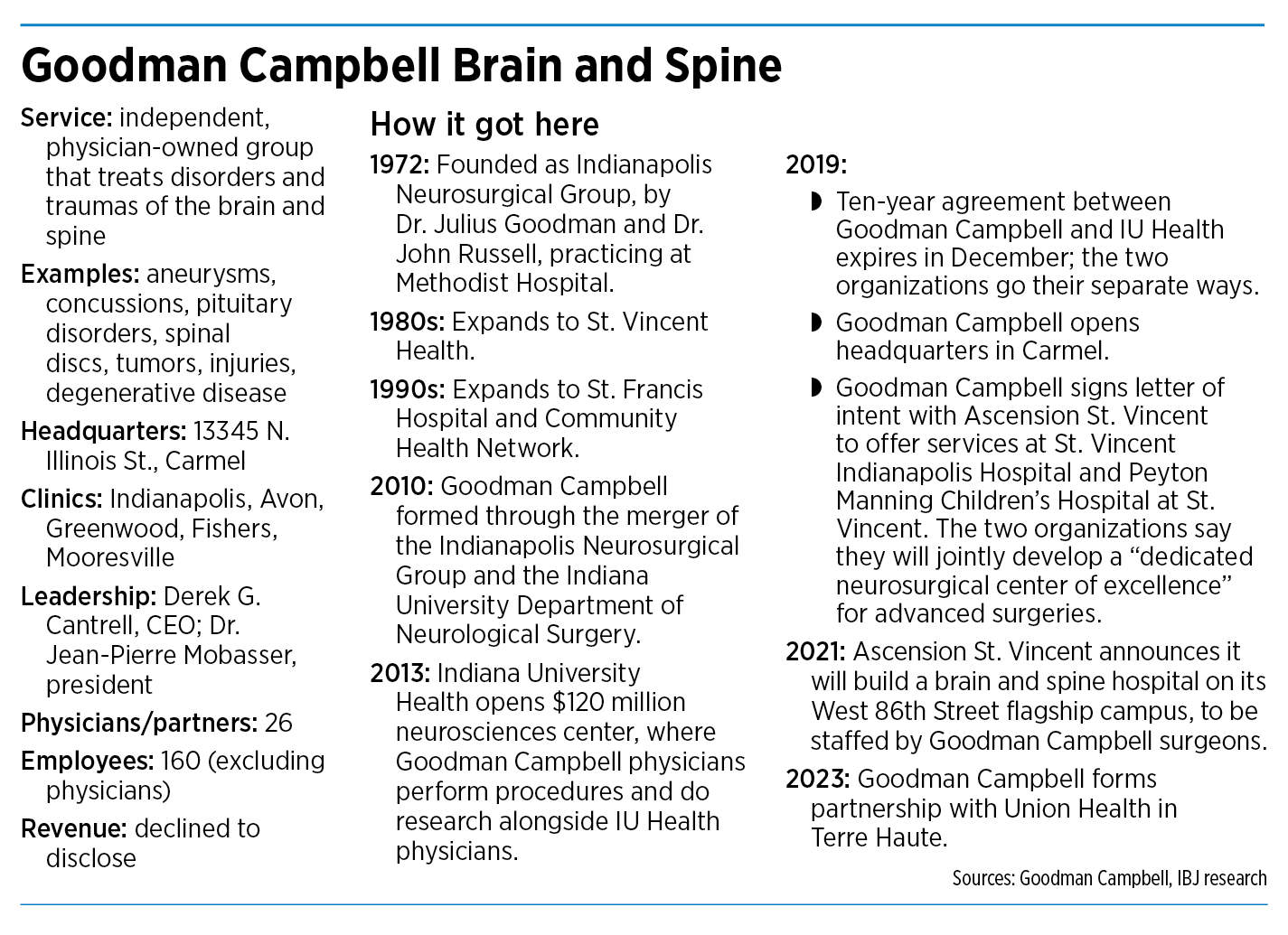 Making the transition
How Goodman Campbell left the orbit of Indiana University and IU Health and wound up working with another large health system is a tale of fierce independence during a time of huge consolidation that is sweeping through medicine, turning physicians into hospital employees at a dizzying pace.
A study conducted by Accenture in 2018 found 75,000 fewer independent physicians working in the United States than in the year 2000. Over this same period, the total number of physicians increased by more than 100,000.
And the trend has only increased since. Nearly three in four physicians, 73.9%, were employed by hospitals or corporate entities at the end of 2021, up sharply from 62.2% at the beginning of 2019, according to a study by Washington, D.C.-based consultancy Avalere Health.
That is happening because hospitals and health systems are constantly looking for ways to increase their leverage in the marketplace, and thus have more pricing power, according to MedPage Today, a medical news site based in New York City.
"They're going to do whatever they can to continue to expand their market share in the region, so that, when they sit down with [a major insurer], they've got more leverage," Glenn Melnick, a health care economist at the University of Southern California, told the news site.
But as health systems grow bigger to increase pricing leverage and economies of scale, the remaining smaller, independent physician practices are facing tough financial and regulatory pressures.
The nation's largest health insurer, Medicare, recently announced it would likely trim physician payments up to 4.4% this year. That has drawn vocal criticism from medical groups and practices across the country, who say it could squeeze their finances and force some to close, hurting patients' access to medical care.
Goodman Campbell said it is feeling the pinch, too.
"Yes, reimbursement is continuing to go down, unfortunately," Mobasser said. "A lot of the private insurers follow what Medicare does, and it's become a challenging environment for any private-practice economic model. And that's why there's been such huge growth of physician employment by hospital systems, because running a practice and making the numbers work financially have become more and more difficult each year."
Today, Goodman Campbell is the 15th-largest physician group in central Indiana, with a staff of 26 doctors and 160 employees.
In addition to its Carmel headquarters and medical offices, it has clinics in Indianapolis, Avon, Greenwood, Fishers and Mooresville.
It also operates a neurosurgery clinic in suburban Milwaukee.
"They are a very high-end specialty, and that has helped," said Ed Abel, retired director of health care practice at Blue & Co., an Indianapolis accounting and consulting firm. "And they are extremely highly regarded by just about everybody I've spoken with."
Goodman Campbell treats a wide spectrum of brain and spine injuries and conditions, including brain aneurysms, stroke, brain tumors, complex spinal disorders, degenerative disease, spinal tumors, traumatic injuries, and back and neck pain. Last year, Goodman Campbell performed 14,033 surgeries and procedures.
Many of those conditions require complex, expensive procedures. Goodman Campbell declined to discuss its practice revenue.
But neurosurgeons are the highest paid of all medical specialties, pulling down an average of $788,313 annually, according to San Francisco-based Doximity's sixth annual physician compensation report, released last month and based on surveys of 190,000 physicians.
That's largely because neurosurgeons treat an extremely delicate area of the body, requiring tremendous skill and years of training.
"With neurosurgery, you want only the best doing it," Abel said. "Because, if there's just the slightest mistake, it can be fatal or it could cause permanent damage to a person's life. And so, because of that, they generally get paid at a much higher rate."
And neurosurgery is among the highest-reimbursed specialties for procedures, getting 220% more in commercial plan payments than Medicare rates, according to a 2021 study by the Urban Institute. Only anesthesia (330%) and emergency/critical care (250%) got more.
Today, it is safe to say that Goodman Campbell is in as good a position as any independent physician group to thrive on its own and to rebuff potential suitors.
Indianapolis Neurosurgical Group was founded by two physicians, Julius Goodman and John Russell, who were known for their commitment to the specialty and their breakthrough procedures.
The group, which did the majority of its surgeries at Methodist Hospital, pushed the hospital in 1974 to order Indiana's first computed tomography scanner, becoming just the 25th hospital in the world to possess this capability.
For three years, this was the only CT scanner in Indiana.
Its surgeons also performed Indiana's first microlumbar discectomy and were the first in Indiana to clip aneurysms via microscope. They also introduced radiosurgery for brain tumors and vascular malformations.
Over the decades, the group formed partnerships with other hospital groups in central Indiana and had admitting privileges at most of them.
But by the early 2000s, the neurosurgery group began to see competitive pressures almost everywhere it looked, not the least by IU Health (then called Clarian Health Partners), which was turning up the pressure to employ their physicians.
So Dr. Troy Payner, a neurosurgeon and president of Indianapolis Neurosurgical Group at the time, decided he had to make a move. He decided the best ploy was to merge with surgeons at the IU Department of Neurological Surgery.
"I said, if we merge with the university neurosurgeons on our terms, rather than the hospital imposing it upon us, then we're going to be in a much stronger position," Payner recalled.
It took nearly three years to negotiate a deal. But in January 2010, the two groups merged, forming Goodman Campbell. (Campbell was longtime chair of neurosurgery at the IU medical school.)
The group negotiated a 10-year agreement with IU Health under which Goodman Campbell physicians performed a wide variety of brain and spine surgeries at all of IU Health's neurosurgery departments across the state.
Separately, IU Health built a $120 million neurosciences center, which opened in 2013, to woo Goodman Campbell physicians to perform procedures there.
But as the contract neared the end of its 10-year term, IU Health and the medical school sent out strong signals that they did not want the arrangement to continue indefinitely.
Instead, they wanted Goodman Campbell physicians to come under their umbrella as employees of IU Health Physicians, the joint venture between the hospital system and the medical school.
IU Health Physicians said it wanted to coordinate care across its system, from treatment protocols and electronic medical records to physician salaries and patient billing.
Doing that, it said, would improve patient care.
For months, the two sides dug in, with Goodman Campbell in no mood to give up its independence. But more than a dozen of its surgeons agreed to leave Goodman Campbell and take employment contracts with IU Health Physicians to continue teaching in the medical school or keep practices within the large hospital system.
Some of those neurosurgeons were practicing with IU Health in Bloomington, Lafayette and Muncie, and had little choice but to stay with the huge system.
"They all had families and were kind of established in those communities," Payner said. "So they didn't want to leave those towns and come back to Indianapolis. So we allowed them to stay [with IU Health]."
'Disappointment at that time'
In the end, the two sides couldn't come to an agreement, so they parted ways. Today, no Goodman Campbell surgeon does procedures in an IU Health hospital or teaches at the medical school.
"So I would say it was a disappointment at that time, but I think both sides have in a way moved on and have rebounded from that," said Derek Cantrell, Goodman Campbell's CEO. "I know we came out of it strong and have grown since then."
In recent years, Goodman Campbell has been rebuilding and now stands at 26 physicians. It is continuing to recruit.
And as it moved away from IU Health, it moved decidedly into the sphere of Ascension St. Vincent, helping to manage the Catholic hospital system's neurosurgery service line. It also has pediatric neurosurgeons at Peyton Manning Children's Hospital.
"Once IU made it very clear the direction they wanted to go, we knew that, if we wanted to continue not just our clinical care but our academic and research interests, we had to find another hospital system big enough and interested enough to support those endeavors," said Mobasser of Goodman Campbell. "And Ascension was the logical choice at that point."
IU Health, for its part, says it cares for more neurosurgery patients in Indiana than any other health system, with 24 neurosurgeons practicing in Indianapolis, Avon, Carmel, Bloomington, Lafayette and Muncie.
Most of the surgeries are performed at IU Health Methodist, which has eight dedicated neurosurgical operating suites "with one of the largest neurological ICUs in the U.S. at 18 beds," IU Health said in a statement to IBJ.
"Among the spectrum of providers are neuro-oncologists and board-certified pediatric neurosurgeons, and a unique partnership with the Indiana University School of Medicine gives IU Health physicians access to innovative treatments using the latest research and technology," statement said.
Today, Goodman Campbell officials are watching closely as Ascension St. Vincent builds its brain and spine hospital, which is expected to open next year.
"We will move most, if not all, of our patients into that new facility once it's built," said Cantrell of Goodman Campbell. "And the goal there is to have a facility that will have a regional reach to it. It will be a destination for higher-level care of the brain and spine."
Story Continues Below