GM to invest $45M in Bedford plant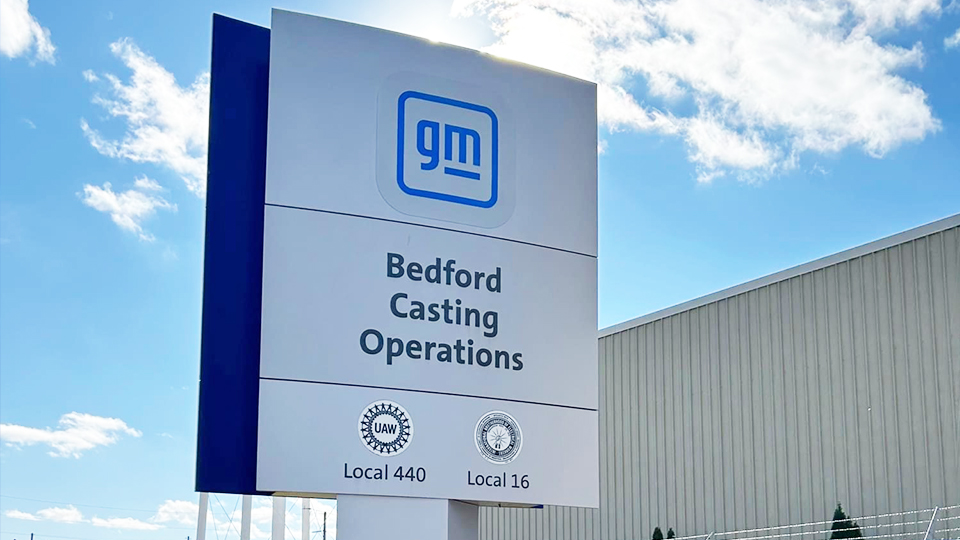 General Motors Co. (NYSE: GM) will invest $45 million to expand production at its Bedford Casting Operations, the automaker announced Friday. The investment will be used to support additional production of electric vehicle drive unit castings ahead of what GM anticipates will be strong demand for the Chevrolet Silverado EV and GMC Sierra EV full-size pickup trucks. A spokesperson for GM says the investment will be used to retain the plant's nearly 680 employees, but no new jobs will be added.
The automaker says the expansion work at the facility will begin immediately.
The announcement comes less than a year after GM detailed plans to invest $51 million at the 1 million-square-foot facility to install new equipment to support drive unit castings production for the Silverado.
The facility last year began producing electric drive unit castings that have been used in the 2022 GMC HUMMER EV pickup.
"Our Bedford operation is one of the leading aluminum die casting facilities in the world and this additional investment is really an investment in the Bedford team and their commitment to excellence," Phil Kienle, GM vice president of North America manufacturing and labor relations, said in written remarks. "This investment helps build job security for our Bedford team for years to come as we continue to prepare our entire manufacturing footprint for an all-electric future."
The automaker says it has invested more than $456 million in the Bedford Casting Operations plant since 2011.
"[GM's] additional investment in Bedford's economy and workforce further demonstrates their commitment to and understanding of our community's values and strengths," said Bedford Mayor Sam Craig. "We are grateful they continue to choose Bedford as they enter their era of EV production, keeping our workforce and community part of their company's mission."
The Bedford plant marked 80 years in operation this year. The facility also produces cylinder blocks, transmission cases, structural components and drive unit housings for Chevrolet, Buick, GMC and Cadillac vehicles.
The $45 million investment is the second big announcement GM has made in Indiana in the last three months related to EVs. In September, GM said it would invest nearly $500 million to expand and upgrade operations at its Marion Metal Center to support electric vehicle production.
GM is also involved in a joint venture with LG Energy Solution to build a $2.4 billion electric vehicle battery production facility that could be located in New Carlisle. The St. Joseph County Council in September approved tax incentives and a development agreement for the Ultium Cells project, which could bring 1,600 jobs to the area.
Ultium Cells has not yet decided where it will locate the facility, but has indicated it plans to make a decision by the end of the year.
During the company's investor day in New York on Thursday, GM CEO Mary Barra said she expects the company's portfolio of electric vehicles to become profitable in North America by 2025.
The automaker has set a goal of selling only electric passenger vehicles by 2035.
The Associated Press contributed to this report.
Story Continues Below