Food Prices for 4th of July Cookout
If you're hosting a Fourth of July cookout in Indiana this weekend, you might be paying less than other parts of the country. The Indiana Farm Bureau says Hoosiers can expect to spend on average $56.70 to feed 10 people. That's about 5% less than the U.S. average.
The menu for Indiana Farm Bureau's informal Market Basket Summer Cookout Survey includes such staples as burgers, potato salad, and strawberries.
"Despite lingering high prices due to COVID-19 supply chain disruptions, Indiana food prices are nearly $3 less than the national average for a cookout for 10 people," said Isabella Chism, INFB's 2nd vice president.
The market basket shopping list included the following items: ground beef, cheese, hamburger buns, pork chops, chicken breasts, pork and beans, potato salad, strawberries, chips, ice cream, cookies and lemonade.
The survey was conducted in mid-June by 27 volunteer shoppers from across the state who collected prices on specific food items from their local grocery stores.
Indiana Farm Bureau says three items on the list are more expensive in Indiana than they are nationally, including ground beef, pork chops and cookies. INFB says the most notable price difference is for ground beef which is 18% more expensive than the national average. However, cheese and ice cream are less expensive.
According to the U.S. Department of Agriculture, farmers on average receive about 13 cents for every dollar spent for food consumed at home. Using this figure, the farmer's share of this $56.70 market basket would be less than $8. The remainder goes to the other parts of the food industry.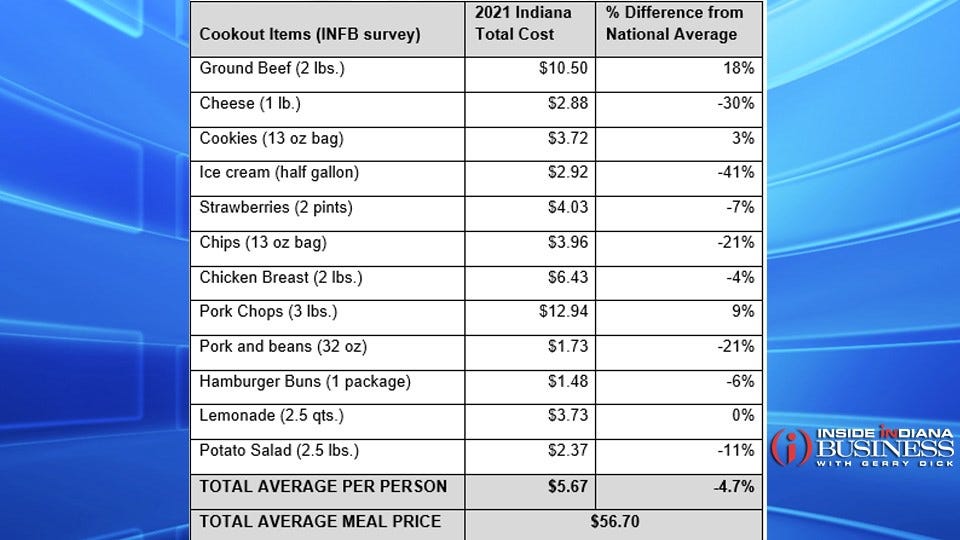 Story Continues Below