FFA Announces In-Person Convention for 2021
Organizers of the National FFA convention say the keys to a successful event this year will be flexibility, patience, and communication, like never before.
The youth organization announced Wednesday it will conduct an in-person convention this fall in Indianapolis, bringing tens of thousands of visitors to downtown and area hotels, restaurants, and support businesses.
The FFA, which is headquartered in Indy, canceled its in-person convention last year because of the pandemic.
"We've all had a year off of what a normal convention year would look like, and that's going to bring a lot of questions," said National FFA Associate Director of Convention and Events Mandy Hazlett in an interview with Inside INdiana Business. "They will probably get more communication from us this year than they ever want. But I want to make sure that they are fully prepared for what that in-person experience is going to be."
Convention planners have been monitoring the status of the pandemic since January. Even with an improvement in the number of COVID cases, plus the availability of vaccines, FFA knew it had to decide this spring.
"When it comes to an event of our size, we just don't have the capability to wait any longer before we start hitting that timeframe of not going to have enough time to plan," said Hazlett.
Hazlett says FFA is planning for in-person events, such as general sessions, competitions, entertainment and the FFA Expo.
Some activities, such as student and teacher workshops and the National Days of Service will be offered both in-person and as virtual programs.
The organization will also offer the FFA Blue Room in a virtual setting, which allows students to explore innovations, new technologies, and career paths.
While the organization was forced into the virtual world yesterday, Hazlett says there were some added benefits to conducting business remotely.
"We were able to last year reach over 230,000 of our FFA members through the live streaming of our sessions, and then their participation in the virtual platform that we created," said Hazlett, who adds the convention typically draws 65,000 to 70,000 attendees. "The fact that we were able to have so many of them participate in some fashion for the first time last year, we want to continue providing some of that opportunity."
The convention is set for October 27-30. Tourism officials are excited to see the in-person event return.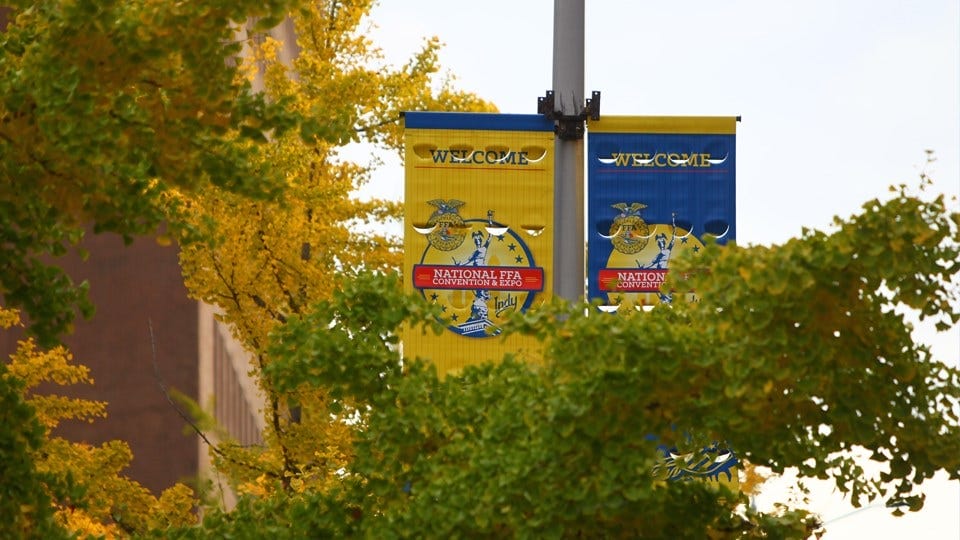 "Indy's proven track record of hosting in-person events is grounded by the Indiana Convention Center's $7 million in new health and safety upgrades, allowing Indy to safely welcome 250,000 attendees in addition to hosting March Madness in its entirety, " said Visit Indy's President and CEO Leonard Hoops. "We are extremely grateful to the entire National FFA team for its continued confidence in Indy and commitment to keeping its convention on track."
The FFA and the city have agreed to a long-term partnership with the national convention being held in Indy through 2033.
Click here for more information about the 94th annual FFA Convention.
In an interview with Inside INdiana Business, National FFA Associate Director of Convention and Events Mandy Hazlett explained why open communication will be necessary for a successful convention.