Farmers More Optimistic As China Trade Deal Signed
Agricultural producers across the country seem much more optimistic about the future of the ag economy ever since President Trump signed the Phase One Trade Agreement with China.
The Purdue University/CME Group Ag Economy Barometer, which measures farmer sentiment, rose 17 points from December to a current reading of 167.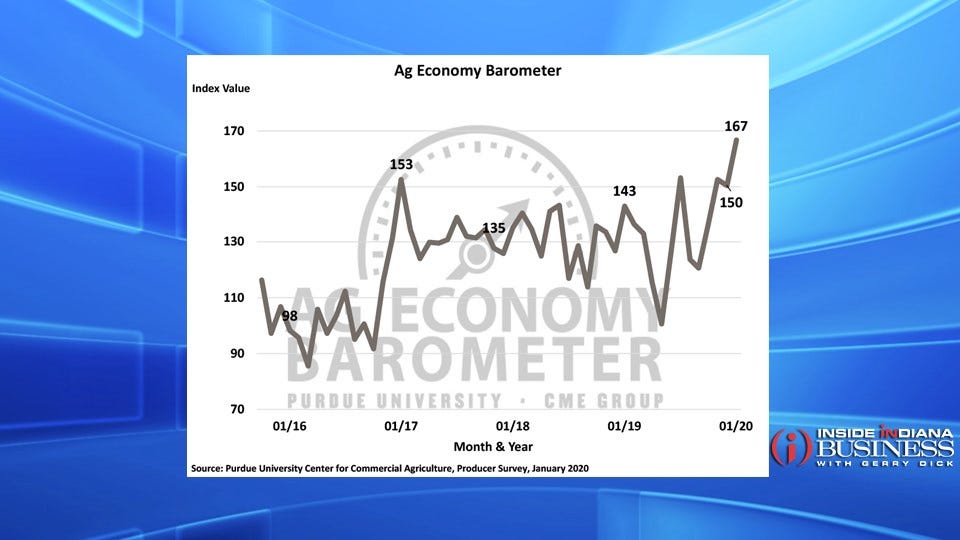 The deal, which was signed three weeks ago, requires China to purchase $200 billion worth of U.S. goods, including $40-$50 billion in agricultural products over each of the next two years.
Jim Mintert, director of the Purdue Center for Commercial Agriculture, says the sharp rise is primarily due to a large jump in a sub-category, the Index of Future Expectations. It climbed 24 points from December.
"That index rose from a reading of 155 in December to 179. And of course, our survey this month was right during the timeframe when the approval was taking place of the US-China trade agreement," said Mintert. "And that appeared to make people much more optimistic about what was going to take place in the future with respect to both their farming operation and U.S. agriculture."
While farmers expressed optimism about the future expectations, Mintert says there was almost no change in the index of current conditions.
The ag barometer is based on a survey of 400 farmers and ranchers across the U.S. The survey was taken in mid-January.
Mintert says although the trade agreement with China did not explicitly address the soybean trade dispute, the percentage of farmers who expect the soybean trade dispute to be settled soon rose to 69% in January, up from 54% in December and 22% in July.
Indiana farmers harvested 5.3 million acres of soybeans in 2019.
Mintert provides analysis of the monthly survey in the video below.