Eiteljorg to unveil new Native American Galleries, nears campaign completion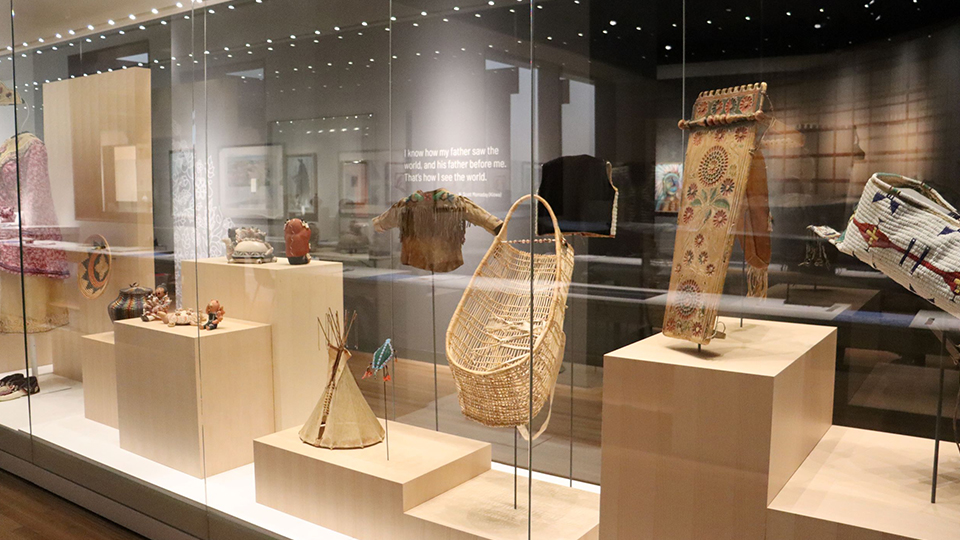 The Eiteljorg Museum of American Indians and Western Art in downtown Indianapolis will Saturday mark the reopening of its Native American Galleries. The reopening comes as the museum nears completion of its $55 million capital and endowment campaign.
In an interview with Inside INdiana Business, Eiteljorg President and CEO John Vanausdall said reimagining of the Native American Galleries was a capstone project of the campaign.
"It's virtually the entire upper floor of the museum; it's about 13,000 square feet, and it hadn't been redesigned or reconsidered completely since the opening of the museum in 1989," said Vanausdall. "We actually gutted the gallery to the studs and rebuilt it from scratch."
The new Native American Galleries includes the new exhibition titled Expressions of Life: Native Art in North America, which features works from Indigenous artists from throughout the U.S. and Canada. The works include beadwork, jewelry, pottery, paintings, textiles, sculptures, glass and contemporary art.
"It is no longer organized geographically; it's organized by major themes," said Vandausdall. "It's a blend of the past, the present and the future. We have contemporary things mixed with more expected things from the past, and that is partly to show that native people are still here today and they're still producing art and they are contemporary people."
Vanausdall says ideas about how to present cultural art, particularly Native American art history and culture, in museums has changed dramatically.
"[It's] most important that they have a voice in creation of the exhibit, and the words that you hear [and] read are all created by native people," he said. "This is from their perspective, and that's a pretty fundamental change in the museum world, but very important one."
The Eiteljorg launched the public phase of its campaign last October after five years of private fundraising. The goal was to raise the final $6 million, and Vanausdall says the museum is needs about $500,000 to reach its goal.
"It's exhilarating. It's relieving. But I have to tell you, when all the money is in and the campaign can truly say it's complete, it'll feel a lot better," he said.
The campaign is raising $40 million for the museum's endowment and $15 million for capital projects. In addition to the Native American Galleries, the campaign has supported renovations to the museum's Nina Mason Pulliam Education Center, which opened in November.
The next capital project that is being funded by the campaign is the remodeling of the Allen Whitehill Clowes Sculpture Court, which is the multi-purpose rental and event space at the museum.
The reopening of the Native American Galleries coincides with the 30th annual Eiteljorg Indian Market and Festival, which runs Saturday and Sunday.
You can learn more about the capital campaign, including how to donate, by clicking here.
Story Continues Below