Developers plan $29M second phase of Proscenium in Carmel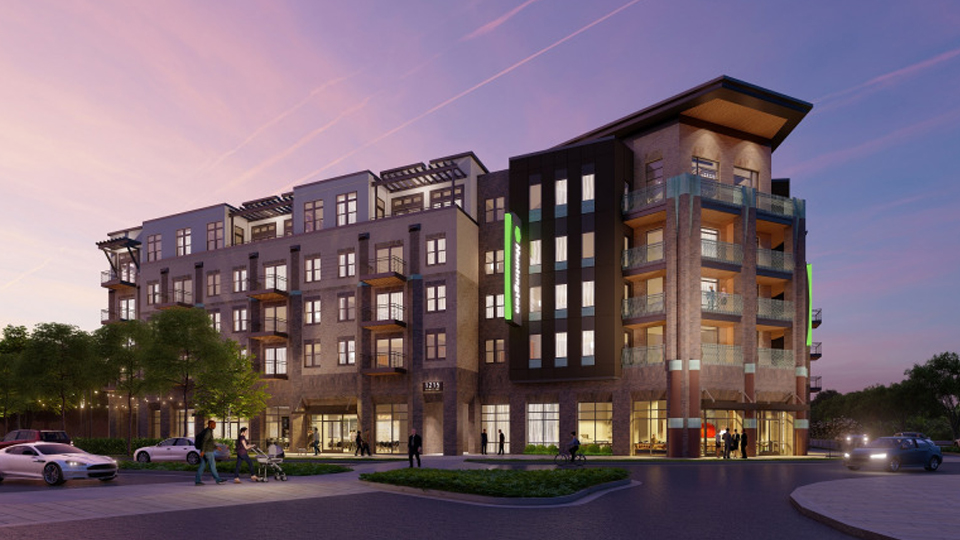 A pair of developers on Friday morning announced a second phase for the Proscenium complex in Carmel, adding to its current mix of condos, apartments, office space and restaurants located a few blocks south of Carmel City Center.
The $85 million first phase by Carmel-based Birkla Investment Group and Dayton, Ohio-based Woolpert Inc. was completed in 2021 on the northwest corner of South Rangeline Road and West Carmel Drive.
Birkla and Woolpert said Friday that the $29 million, five-story addition at 1215 S. Rangeline Road would include 48 rental units and seven penthouse condominiums, 16,000 square feet of ground-floor space for restaurant and office uses, and a 120-vehicle multi-level parking garage.
Woolpert Director of Design Tony Martin said in a media release that the expansion would be harmonious in style and scale with the existing Proscenium complex.
"The continuity will be in the higher-end, live-work-play development style, in which each site is able to stand on its own and benefit from shared features and amenities like a swimming pool, workout space, green space, additional parking, etc.," Martin said in the release. "This project continues the densification and walkability of Carmel's downtown."
The developers expect the second phase of Proscenium to be ready for occupancy in summer 2023. Indianapolis-based Lynch, Harrison & Brumleve Inc. will provide structural engineering for the project.
The Proscenium is located on a seven-acre lot on the northwest corner of South Rangeline Road and West Carmel Drive. The addition is planned for a different site across Rangeline Road.
The city of Carmel purchased a Party Time Rental warehouse in 2009 and an Arby's property in 2017 for a combined $6.2 million. The city partnered with Carmel-based developer Novo Development Group—whose holding company is Birkla Investment Group—to work on making the Proscenium a reality on the sites.
The project's first elements—a 100,000-square-foot Agora at Proscenium office building and a 600-space subterranean parking garage—opened in the summer of 2020.
Its 196 luxury apartments, 15,000-square-foot restaurant building and a 22-unit condominium building opened last year to complete the first phase of development. Indiana's first Wahlburgers eatery is located in the restaurant building.
The Proscenium also features two acres of green space atop the underground parking garage.
Story Continues Below