Crown Point Hospital Marks Construction Milestone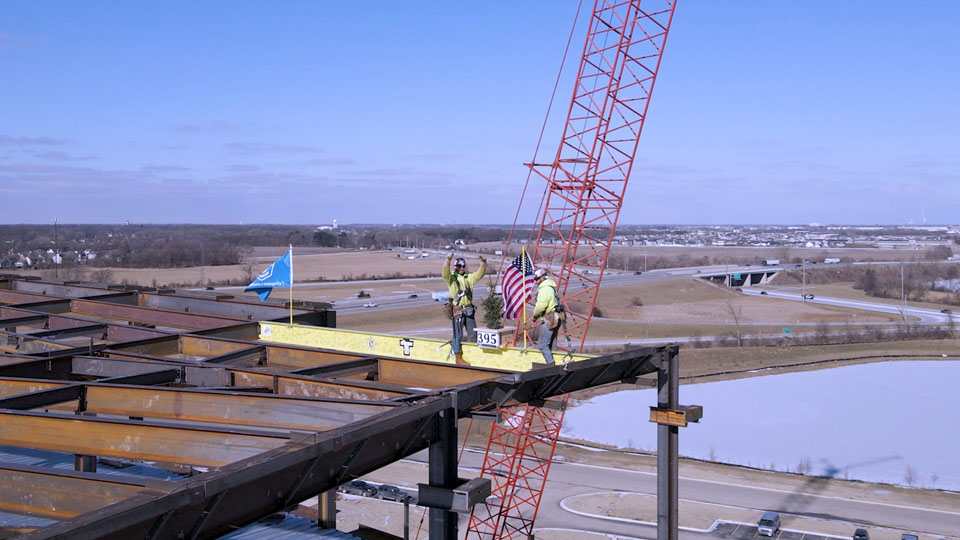 Franciscan Health Crown Point's new $200 million hospital has reached a major milestone. The hospital held a topping off ceremony this week to celebrate the installation of the final steel beam used in the construction of the building, which is set to open in 2024.
The health system broke ground on the $200 million hospital in September 2020. The hospital, located near I-65 and U.S. 231, will serve Lake, Porter, Newton and Jasper counties.
"As I said at the groundbreaking, this isn't about a building, it's about beginning a new age for healthcare in Northwest Indiana," said Dr. Daniel McCormick, president of Franciscan Health Crown Point. "This building reaffirms the commitment the Sisters of St. Francis of Perpetual Adoration have made to our communities since arriving in Lafayette from Germany in 1875."
Jon Gilmore, president of Indianapolis-based Tonn and Blank Construction, says workers have already moved more than 9.5 million cubic feet of soil, poured 1,500 truckloads of concrete and erected more than 10 million pounds of steel. The project also involves offsite work, where exam rooms, bathrooms and electrical distribution rooms will be built and fully finished and then delivered to the worksite.
"Thanks to our highly skilled workforce, coupled with the latest in virtual construction technology, we are able to do things on this project like this that were never possible in the past," Gilmore said.
Last year, the Crown Point Plan Commission approved engineering plans and architectural renderings for phase two of the hospital.
Story Continues Below