City's big bet on a publicly owned hotel worries other hoteliers
Is the Hogsett administration's plan to finance and own a hotel at Pan Am Plaza—a project that's connected to an expansion of the Indiana Convention Center—a bold move to build the city's tourism industry or a risky bet that pits government against the private sector?
Depends on whom you ask.
Mayor Joe Hogsett, a Democrat seeking a third term, said through a spokesman that the plan will ensure Indianapolis' hospitality industry remains nationally competitive by making room for larger events. And his deputies said that, while a government-owned hotel is a first for Indianapolis, such public ownership has been successful in other cities.
But some local hoteliers are far more skeptical. They say a city-owned hotel could have a significant unfair advantage in the competition for lucrative convention business—in part because it won't pay property taxes and could have less emphasis on profit.
In addition, the city could try to steer business to its own property, which would be managed by Hilton, to help it generate the money needed to pay the project's debt, critics say.
"Government shouldn't be competing with private investors—people who have invested in hotels in downtown Indianapolis and now must compete with the city, who has access to tax-exempt bonds and unlimited borrowing ability," said Mike Wells, president of Carmel-based REI Real Estate, a partner in the Marriott Indianapolis Downtown.
At issue is a major change the city announced last week in the way the long-anticipated Signia convention hotel at Pan Am Plaza will be funded. The city in 2018 picked Indianapolis-based Kite Realty Group Trust to develop a project that was originally to include two hotels along with the 100,000-square-foot convention center expansion (which would be connected to the existing building with a walkway over Capitol Avenue).
Later—at the urging of other hotel operators—the city and Kite decided to table one of the hotels and focus on the 40-story, 814-room Signia by Hilton planned for the northeastern portion of the plaza. The hotel is to be connected to the convention center expansion.
But Kite couldn't make the financing work. Earlier this year, the developer approached the city and Capital Improvement Board, which owns and manages the convention center, to say increases in construction costs and interest rates made securing financing unfeasible.
That's when the city decided to take over the financing and ownership of the $510 million hotel—which comes in addition to the $200 million it plans to spend on the convention center expansion. Kite will still oversee construction and development of both.
To pay for the hotel part of the project, the city plans to take out up to $625 million in tax-exempt bonds that it will pay off using the hotel's revenue.
The proposal is expected to be considered by the City-County Council's Metropolitan and Economic Development Committee next week with a full council vote in June.
Meanwhile, the CIB is hiring an outside expert to do a feasibility study, one that could help answer skeptics' questions and help the city secure financing in the bond market.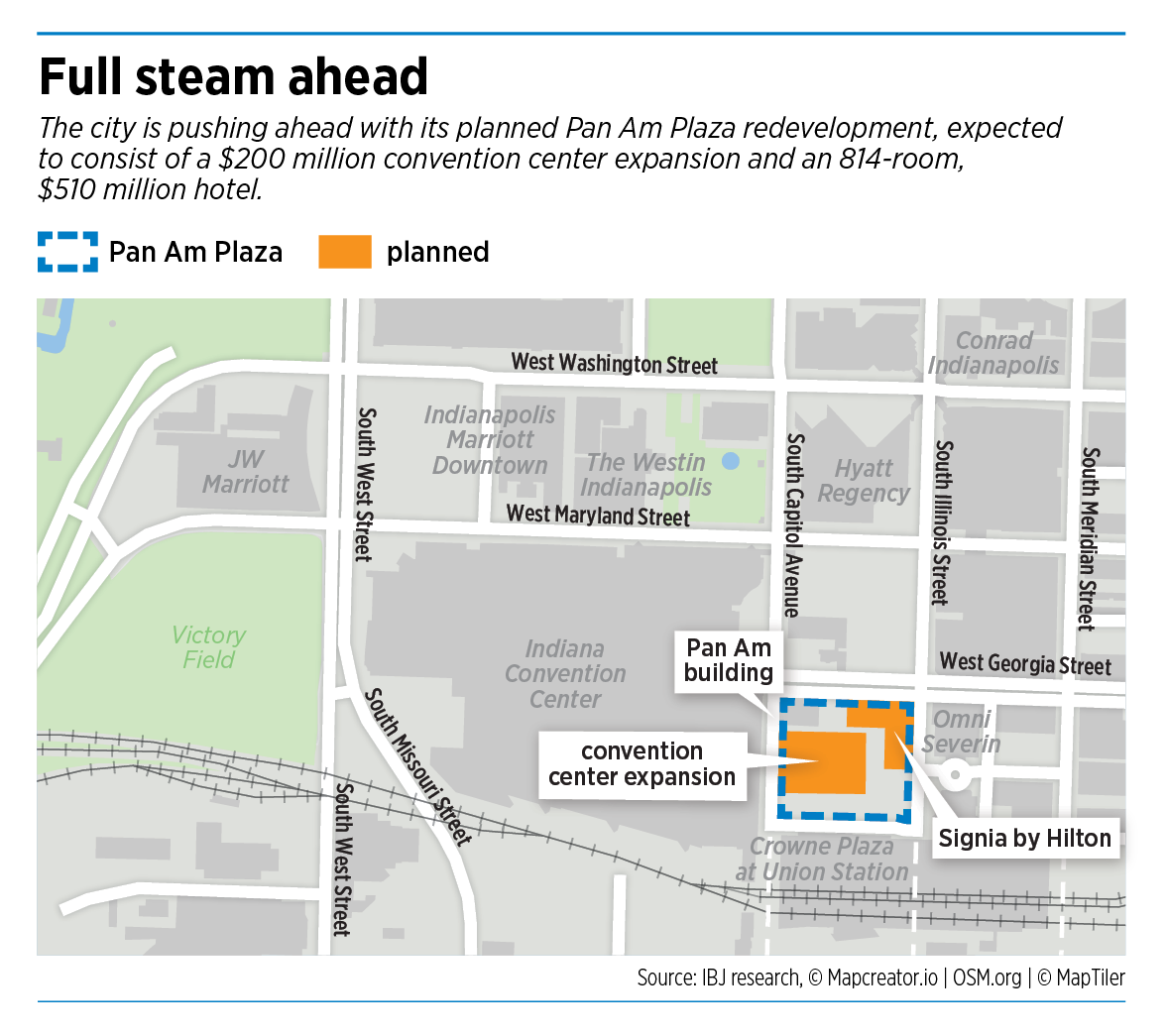 A big punch
The Hogsett administration has said other downtown hotels needn't worry about unfair competition and the city will set up safeguards to ensure that the Signia won't have an advantage.
But some hoteliers told IBJ they fear the city could undercut other convention hotels—including the Hyatt Regency, JW Marriott, Omni Severin and The Westin—with much lower room rates and preferential treatment by Visit Indy, the nonpartisan not-for-profit that markets the city for events.
"We have a long history of working together with the city, [but] now we will compete against it, where the city has unfair pricing and operating advantages for decades to come," Mike Banas, senior director of communications and corporate affairs for White Lodging, told IBJ in an email.
Merrillville-based White Lodging operates nearly 2,300 rooms in downtown Indianapolis—about one-third of the corridor's overall supply—including the 1,013-room JW Marriott. That hotel, which opened in 2011 and helped secure the 2012 Super Bowl for Indianapolis, received $50 million in tax-exempt bonds from the city.
Wells, a partner with White Lodging on the Marriott, has opposed the Pan Am project since it was announced. He said then that the city couldn't support the 1,400 rooms that would have been created if both hotels had been built.
Wells was part of a group that pushed the city to postpone construction during the pandemic to give the industry time to recover and urged officials to table the second hotel to see how the Signia impacts downtown's occupancy rates.
He said the city's decision to pay for and own the hotel has taken the project from bad to worse: "It's a terrible idea."
"When it's time to start allocating hotel rooms [for conventions], they're going to have an obvious advantage, and that's just really wrong," he said.
City officials reject the notion that the Signia would have an advantage in the market, asserting public ownership would not be a conflict of interest. Rather, the hotel operations would be managed by Virginia-based Hilton Worldwide and the property itself overseen by a to-be-determined third-party asset manager, hired by the CIB.
Both companies would be paid directly through revenue generated by the hotel, and the city said it wouldn't play a role in booking or marketing the property.
'An even bigger stake'
Even so, Doug Noonan, a public-policy expert at IUPUI's O'Neill School of Public and Environmental Affairs, said that simply by owning the hotel building, the city risks disturbing the private market, particularly because the Signia is a top luxury brand.
"There's now a conflict of interest, in terms of shunting business into Pan Am Plaza through the convention center because the city now has an even bigger stake in making sure it meets revenue figures," Noonan said. "It's through the convention center that they can direct business toward [the hotel]. I think that's a piece that isn't going to be positive for relationships with downtown's other hotels."
Hilton already operates a handful of other hotels downtown, including another Kite Realty Group project, Conrad Indianapolis, on West Washington Street. The city contributed $25 million for the luxury hotel and condo project in 2006, including nearly $4 million in exchange for an 8% stake in the property.
Several hoteliers are involved directly in the leadership ranks of Visit Indy and the Capital Improvement Board. Jim Dora Jr., owner of General Hotels Corp. (which operates Crowne Plaza at Union Station and other downtown hotels) is on both entities' boards. Dave Sibley of White Lodging and Joe Melton of the Hilton Indianapolis serve on the Visit Indy board.
Dora did not return multiple calls seeking comment for this story.
Patrick Tamm, president of the Indiana Restaurant and Lodging Association, a trade group that advocates for downtown hotels, said that hotels have regular, weekly contact with Visit Indy to discuss happenings in the market and that, through interactions with the agency and the CIB, hoteliers are "able to hold their feet to the fire."
Tamm said he's sympathetic to hoteliers' concerns but also believes demand from major conventions for new rooms is high enough to warrant such a deal. He declined to say whether he believed the deal's structure is a smart move for the city.
"Hotel owners and general managers … are very much immersed in the execution and the weeds of the deal, which is a day-to-day battle," he said. "Any dollar they generate above operating costs will have to go into debt service and bond payoff. How that is managed on a day-to-day basis is going to be pretty critical to all hotels and the entire market. But I think Visit Indy and the CIB get that—loud and clear."
Financing frenzy
While the current cost for the hotel tallies about $510 million, interest rates and construction costs, along with cash reserves and other financing fees, could push the cost higher by the time financing is secured in the fall.
Still, city officials said the project won't require a tax increase or divert existing dollars from current or future projects. And they reject the contention that Kite's inability to make the project work financially means it shouldn't be done at all.
Mark Bode, the city's director of communications, said "public financing of the project … is a viable and responsible step" because municipal bonds typically have lower rates than what can be found in the private market, especially when the Federal Reserve is continuing to tick up commercial interest.
The bonds would have a maximum term of 44 years and a maximum interest rate of 12%, according to the resolution filed with the City-County Council.
But Bode said the city hopes to secure an interest rate of 5% to 8%—less than what Kite had been eyeing through its financing efforts—by the time those funds are secured later this year.
He said Kite faces no penalties for withdrawing from the hotel's financing, but the company won't have any ownership stake in the hotel.
For its part, Kite said it is relieved to have the project move forward.
"When considering the most effective strategy to fulfill the project's objectives, the benefits of using tax-exempt financing were evident, with the terms offering a notable advantage over options available in the private markets," Bryan McCarthy, senior vice president of corporate marketing and communications, said in written remarks.
Andrew Urban, senior vice president of commercial services for Toronto-based Colliers and an expert in capital markets, said the city's move is a sensible one given its desire to get a deal done despite the economy's challenging conditions.
"The city is going to have its obligations, and they'll have to run an enterprise that generates cash flow, to make the payments, right? At the end of the day, that's no different than a private company," he said. "But I think the real reason they're doing this is, they're taking a long view."
But IUPUI's Noonan said he was taken aback by the city's decision. He said the move likely shows the city had "no leverage" in its negotiations with Kite, which still owns the land for the project.
"Their [sentiments] have this really strong 'too big to fail' air about them, where they're too far down the line and too invested in this to back out, so they're going to force it over the finish line," he said, pointing to statements city officials made to IBJ about failure not being an option for the project. "That's one way to go about doing policy, I guess."
A new study
Ahead of securing financing later this year, the city has commissioned an updated feasibility study for the project through New York City-based LW Hospitality Advisors—the same firm that in 2019 was commissioned by hotel owners concerned about the Pan Am project. That study predicted that two hotels with a total of 1,400 rooms would hurt competition by driving up room rates and lowering occupancy rates.
Andy Mallon, executive director of the Capital Improvement Board, said the new study—which will also examine the project's annual debt obligations—should go a long way in helping the city secure bonds for the project.
"Ultimately, the test is in the feasibility study," Mallon said. "We'll take it to the bond market, and these very sophisticated institutional buyers [will acquire] the bonds based on this study and their own analysis and, like, deals that have been done all over the country. So that gives me confidence."
Other cities that have wholly financed and owned a hotel include Atlanta, where the nearly 1,000-room, $500 million Signia by Hilton is set to open early next year. That hotel is being financed by the Georgia World Congress Center Authority, which also operates Atlanta's convention center, using a mechanism similar to Indianapolis' plan.
And in Fort Lauderdale, Florida, nearly $400 million in bonds have been approved for an Omni Hotel that will be connected to that city's convention center when it opens in 2026.
"Our policy strategy is ensuring the growth of our convention business, the vibrancy of our downtown and the preservation and expansion of the 80,000-plus jobs that make up our hospitality industry," the city's Bode said. "Public financing of convention center hotels is a step taken by many of our competitors throughout the country, and this allows us to remain competitive without sliding backwards into a lower tier."
Other cities that have implemented the tool have seen varying degrees of success.
In 2015, a Westin hotel opened at the Denver International Airport using $700 million in city revenue bonds. It has faced scrutiny over transparency in its operations.
And in the mid-2000s, Baltimore spent more than $300 million to build a nearly 770-room convention hotel. The Baltimore hotel has rarely turned a profit and in fact cost the city $16 million in cash from 2020 to 2022 to cover debt payments because of a pandemic-related decline in activity.
Keeping conventions
Mallon said city officials consider the project necessary to keep some of the city's biggest events in Indianapolis. Many of those events—including National FFA, FDIC International and Gen Con—have signed or agreed to years-long extensions, contingent on the convention center expansion and the Signia, which are to be physically connected. Visit Indy has said the Pan Am project would allow Indianapolis to retain more than $2 billion in major conventions over the next decade.
It is also expected to drive more than $570 million in economic impact over that time by allowing the city to host two major conventions simultaneously, bringing in new groups that have dismissed Indianapolis in the past because of a lack of space or scheduling conflicts with other conventions.
The project's supporters include the Indiana Sports Corp. and several major events, such as Gen Con and the NFL, which hosts its NFL Scouting Combine here every year (but could depart after 2024).
"This expansion project is critical to not only retaining major citywide conventions that call Indianapolis home year after year, but it gives us the ability to attract hundreds of conventions that have told us they can't meet in Indianapolis because we don't offer enough hotel rooms or convention center space," said Chris Gahl, executive vice president of Visit Indy.
Eric Schlett, organizer of the FDIC International, said he's less concerned about how the deal gets done than whether the hotel is actually built. His group sees more rooms and an expanded convention center as critical to its verbal commitment to remain in Indianapolis through at least 2032.
"I care about folks in the city, and I want to get the project done as it will be helpful to my event," he said. "But I also have to think about business planning long term. We've enjoyed our 25 years here in the city, and we hope to continue that relationship for years to come. And if we can't, I just need to be able to plan to do something differently at some point in the future."
Story Continues Below