Chocolate Maker Opens Tasting Room in Indy
SoChatti is an Indianapolis-based artisanal chocolate and food preservation company. (photo courtesy: Reed Parker)

SoChatti opened a new tasting room at Indys Circle City Industrial Complex (photo courtesy: Reed Parker)
Indianapolis-based artisan chocolate maker SoChatti will next week officially open a new tasting room on the near east side of Indy, part of an expansion of the company's production facility.
The more than 12,000 square-foot space serves as the company headquarters where their chocolate is made and packaged.
It is located in the Circle City Industrial Complex, a former manufacturing site that is now a sprawling urban hub of galleries and eateries.
In an interview with Inside INdiana Business, founder and Chief Executive Officer Matt Rubin said visitors to the tasting room will be able to experience his vision of chocolate.
"It's easy to explain what we do and how we preserve flavors when they experience the chocolate. Everything else comes into focus. And so, customers will be able to come in off the street and enjoy a flight of chocolate with their friends," said Rubin.
Visitors will be able to get a sneak peek at the vegan chocolate being made behind a glass picture window, while they also visit the experience studio.
"So this area, we will be offering chocolate baking classes. We'll also be able to do wine and chocolate pairings in partnership with other local groups, such as Vine Society Indy," shared Rubin. "We will also be engaging other food brands that are local up and coming food brands. We want this space to be a continuous source of new experiences."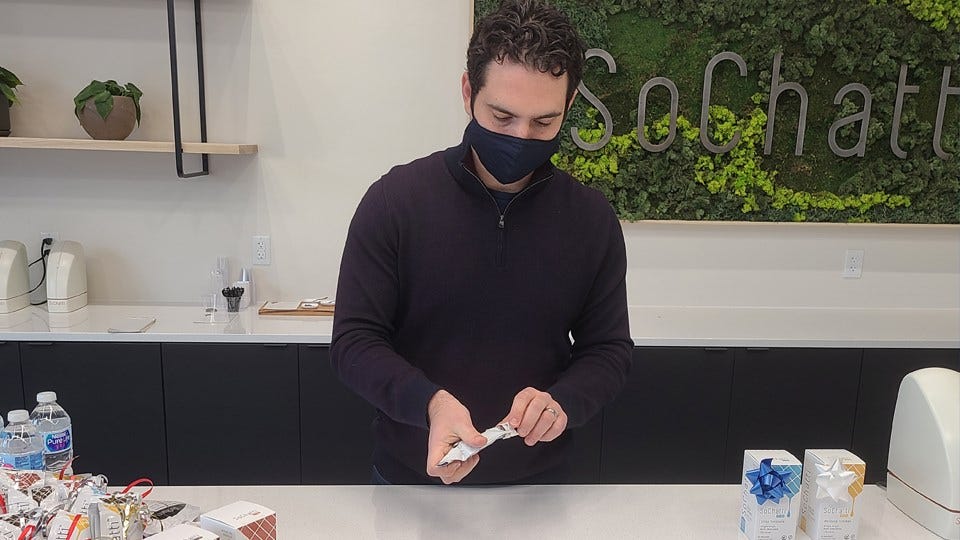 Rubin is an engineer-by-training, and he put that thought process into action as he developed the SoChatti concept. He and his team developed a proprietary flavor preservation method that captures the best flavors of chocolate.
"We said if we try to scale the same way a big chocolate company does, we're going to eventually make the same product they do," said Rubin. So, I said let's tear the whole process down. We figured out there were 22 different steps to making chocolate. We broke down each one of them over a period of five years and recreated the entire process from scratch."
In August, the company closed on $2.2 million in Series A funding, helping the startup to continue the expansion of its products.
Beyond the production of chocolate, SoChatti is also a food preservation company, which is part of the secret behind the intense flavors. Rubin says the company has 28 patents pending, and several issued.
"We developed it for chocolate but those processes, flavor preservation flavor balancing, actually have utilization for industry beyond chocolate, said Rubin. "We have been able to make, for example, grapes, that are dried like raisins, but they still taste like fresh grapes, or berries, that are dried, but they don't taste like dried berries they taste beautifully fresh."
SoChatti's chocolate products are currently available at specialty stores throughout Indiana. Rubin says the products have also found shelf space at nearly 500 retailers across the country. The tasting room is located at 1125 E. Brookside Avenue.
Rubin appeared on Inside INdiana Business with Gerry Dick in 2019. Watch the video below:
Inside INdiana Business Reporter Reed Parker contributed to this story.
Founder and Chief Executive Officer Matt Rubin said visitors to the tasting room will experience his vision of chocolate.

Rubin said the company name is as unique as the product itself.