Daniels: Chiang 'ideally suited' to serve as Purdue president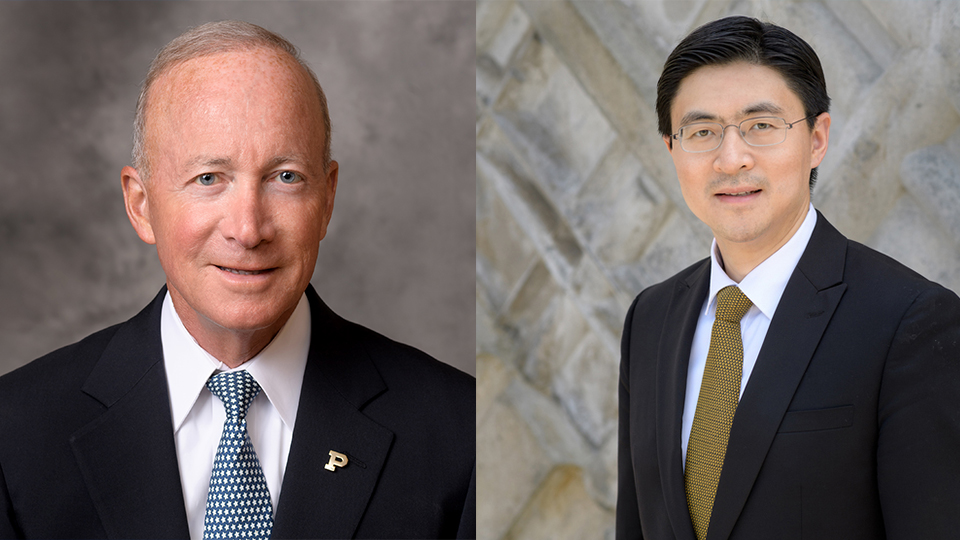 Purdue University President Mitch Daniels says the man selected by the Purdue Board of Trustees to succeed him is "uniquely qualified" for the job. The board unanimously chose Mung Chiang to become the university's next president beginning January 1 following Daniels' retirement.
Chiang currently serves as executive vice president for strategic initiatives at Purdue and the John A. Edwardson Dean of the College of Engineering.
During Friday's meeting of the Purdue Board of Trustees, chair Michael Berghoff said Daniels, 73, indicated last year he was preparing to conclude his term as president, and made the decision in April to retire at the end of this year after holding the position since 2013.
"The last decade has seen Purdue attain unprecedented levels of national recognition, reflected in record enrollments, academic rankings, and overall reputation," Berghoff said of Daniels' tenure in written remarks.
Daniels served as governor of Indiana from 2005 to 2013 and became Purdue president in January 2013. Just seven weeks into his tenure at the university, he announced a two-year tuition freeze, that has continued through the 2022-2023 academic year.
"Purdue University always has been a world class institution with successful graduates spanning the globe, and Mitch has taken the university to even higher levels," Governor Eric Holcomb said in a statement Friday. "During his 10 years at the helm, Mitch has delivered higher education at the highest proven value, from freezing tuition during his entire tenure, to creating a national online university, establishing a network of Indiana STEM charter schools, and making record investments in world-class research."
Chiang joined Purdue in 2017 and since that time has led the College of Engineering to its highest-ever rankings at both the undergraduate and graduate levels, according to Purdue. U.S. News & World Report ranks the college No. 8 for undergraduate education, No. 4 among graduate programs and No. 3 for online programs.
The university adds he has also played a central role in attracting new companies and jobs to the Purdue Discovery Park District.
"The board could not be more confident in this selection, as we have had the opportunity to observe his performance across a broad range of duties for five years," said Berghoff. "He has displayed not only academic excellence but also administrative acumen, effective relationship-building with academic, governmental, and business partners, and the skills of public communications. He brings the entire package of talents and experience necessary to take our university further forward."
Berghoff adds Chiang received several offers to become president of other schools, but chose to stay at Purdue.
During Friday's board meeting, Daniels did not make mention of his decision or his future plans, but offered high praise for Chiang.
"We have here a person uniquely qualified to capitalize on the investments that we have made over the last decade, hundreds of millions of dollars in new people and facilities and connections and partnerships to which I think his skillset is so ideally suited," Daniels said.
Purdue says Chiang will lead a transition of his duties as dean and continue is strategic initiatives role until he takes the helm as president.
Story Continues Below