CEO: Startup Launch Boosts The Pantheon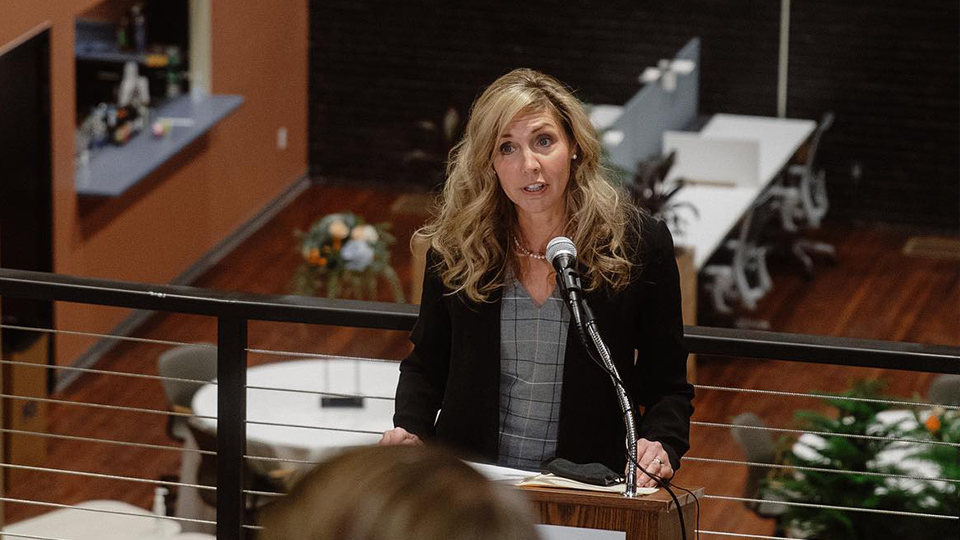 The president and chief executive officer of The Pantheon in Vincennes says the first startup to launch using the business development services offered at the business incubator is evidence of the need for such services in the area. The Pantheon is cutting the ribbon this afternoon on RedAubsTech, an IT services company founded by longtime IT consultant Mike Folsom. "Our mission is to provide these services to make sure that these companies grow and stay here in our community to build wealth and meaningful jobs," said Nichole Like.
In an interview with Inside INdiana Business, Like said the launch of the new startup is validation of what The Pantheon brings to the table.
"There's pent-up demand for entrepreneurial services in Vincennes and Knox County and the surrounding area and we're now providing those services as we're just so happy that Michael Folsom and various other coworkers and entrepreneurs here in our community are now able to tap into those services locally," Like said.
The Pantheon is located inside a nearly century-old theater that was renovated to serve as a business incubator.
In addition to coworking office space, Like says The Pantheon provides a variety of offerings from business plan development to entrepreneurial law services through partnerships with the Indiana Small Business Development Center, the IU Entrepreneurial Law Clinic and Purdue Foundry.
Like says in rural Indiana, such services are difficult to come by.
"There's really no substitute for that face-to-face meeting and being able to sit down with someone and either go through Firestarter, which is a six-week ideation cohort with Purdue Foundry or being able to sit down with ISBDC and talk over a business plan for three to four weeks in a row until you get it developed," she said. "They're services that allow people to start and maintain successful businesses."
Like says the long-term goal for The Pantheon is to continue create a support system where people with an entrepreneurial mindset to go and network, get new ideas, and collaborate to launch new businesses.
"It's all these helpful things that happen with coworking and business incubation that help to kind of create that nucleus of entrepreneurial activity that can help to reignite the growth of small businesses and meaningful opportunities in a rural community."
Story Continues Below