Carmel-based KAR announces 300-plus job cuts amid belt-tightening moves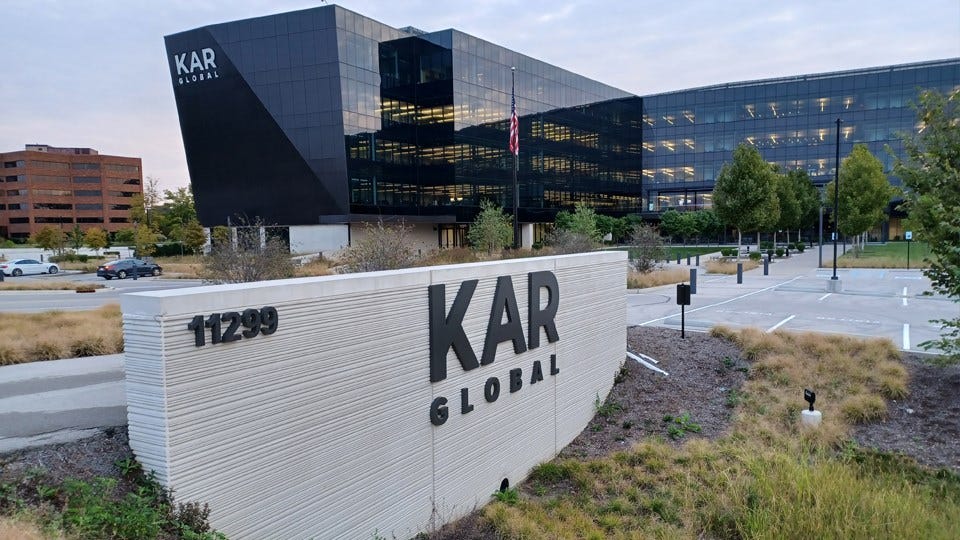 Carmel-based KAR Auction Services Inc. said Wednesday that it plans to eliminate more than 300 positions in the U.S. and Canada as the company moves some of its jobs overseas.
During a quarterly earnings call with analysts, KAR Chief Financial Officer Eric Loughmiller said the company has reached agreements with two offshore firms to handle back-office functions that KAR currently handles in-house.
Loughmiller said the affected employees have been notified, but he did not specify whether those employees work at the company's Carmel headquarters or elsewhere.
"This will impact over 300 positions in the U.S. and Canada," Loughmiller said during the call. "We expect to begin the migration of those roles over the next three quarters."
KAR told IBJ separately that the company already has some positions offshore in the areas of IT, customer service, finance and logistics. It also said that the 300-plus jobs include some positions that are currently vacant.
The offshoring should result in cost savings of more than $10 million per year, Loughmiller said.
As of Dec. 31, KAR had 9,600 employees, about 7,100 of whom worked in the U.S. The remaining 2,500 were in Canada, Europe, Mexico, Uruguay and the Philippines. About 700 KAR employees work in Indiana.
During Wednesday's call, Loughmiller described the shared-services offshoring as part of the company's larger transition towards becoming an "asset-light" operation, selling wholesale used vehicles online rather than at physical auto auctions.
"The fact that our marketplaces are digital and generally not tied to a specific location allows us to move a number of support functions offshore without impacting the customer experience," Loughmiller said.
In May, KAR sold its U.S. physical auto auction business to Tempe, Arizona-based Carvana for $2.2 billion.
As part of its digital transformation, the company has been working on a previously announced plan to reduce its costs, although it has not publicly detailed the entirety of what those reductions involve. On Wednesday's call, CEO Peter Kelly said the company is on track to reduce its selling, general and administrative expenses by $30 million this year.
"Achieving our 2022 cost-savings target was only a starting point. Disciplined cost management and a focused investment strategy will remain a priority for this business going forward," Kelly said.
The company did say during the call that it has closed on the sale of a 57-acre parcel in Montreal, Canada, as part of its transition to becoming an asset-light company. The real estate divestiture will result in a gain of about $35 million for the company.
Also on Wednesday, the company announced that Loughmiller plans to retire in January. Once a successor has been appointed, KAR said, it expects that Loughmiller will serve in an advisory role for a time to ensure a smooth transition.
Regarding KAR's third-quarter financial performance:
— The company reported a quarterly loss of $5.8 million, or 15 cents per diluted share, as compared with a loss of $1 million, or 10 cents per diluted share, during the same period a year ago. For the year to date, KAR has reported profits of $204.1 million, or $1.11 per diluted share, as compared with $61.4 million, or 20 cents per diluted share, during the same nine-month period in 2021.
— Third-quarter revenue was $393 million, up from $347.1 million a year ago.
Kelly said he was pleased with the company's third-quarter performance, "especially given what continues to be a very challenging industry and economic environment."
KAR released its financial report after the close of trading on Tuesday. Shares of the company were trading at $13.61 early Wednesday afternoon, down 8.25%, or $1.20, from Tuesday's closing price.
Story Continues Below