Can new Indiana law lower drug costs? Answer is as clear as mud
It is meant to help Hoosiers get more affordable prices on prescription drugs on everything from blood-pressure medications to chronic-pain treatments.
But whether Senate Enrolled Act 8, which Gov. Eric Holcomb signed into law this month, will have far-reaching ramifications remains a very open question, and that could take years to determine, several experts say.
The law is part of a sweeping effort this year by the Indiana General Assembly to bring down the cost of health care across the state, where prices are among the highest in the country. The newly passed laws touch on almost all aspects of health care, from price caps on hospital care to physician noncompete agreements.
But perhaps no bill was more ambitious than SEA 8, which attempted to regulate pharmacy benefit managers, or PBMs, the powerful middlemen who negotiate drug prices between drugmakers, insurers and pharmacies.
The law, similar to one passed in West Virginia two years ago, requires PBMs to pass along rebates they receive to patients or to group plans.
Yet Indiana, like other states, has only limited power to regulate health insurance. Most of the health insurance purchased in Indiana is through so-called "self-funded" group plans, where employers and other sponsors take on most or all of the risk and cost of benefit claims. Self-funded plans are governed by federal law and not subject to state regulations.
The new law will apply only to people who buy individual plans from the Affordable Care Act marketplace and those who are part of fully funded group plans. That's estimated to be 1 million to 1.4 million Hoosiers.
The bill's primary author, Sen. Ed Charbonneau, R-Valparaiso, acknowledged that the bill will not reach most insured Hoosiers but pushed back at suggestions that it will be ineffective because it will reach only a narrow segment of the market.
"A narrow segment is still thousands and thousands and thousands of people," he said. "Just because it isn't 2 million people or something doesn't mean we shouldn't do something for that individual that is buying prescription drugs."
The Diabetes Leadership Council, a patient advocacy group based in Lexington, Kentucky, supports the new law, saying it could help untold thousands of Hoosiers, a worthwhile first step.
"It's not a small number," said George Huntley, a Type 1 diabetes patient from Carmel and the group's CEO. "It's a lot of people. Hundreds of thousands of Hoosiers are going to be helped by this."
The law is trying to unlock one of the most controversial and secretive aspects of health care: how rebates are negotiated, and where the rebate money goes. The law's supporters say more of that money should be going into the pockets of patients or health plan sponsors.
The PBM industry, for its part, says it saves American consumers billions of dollars a year on prescription drugs through tough negotiations on behalf of health plans, while drugmakers are raising prices every year.
Elusive answers
But PBMs are notoriously protective of their contracts, making it difficult for consumers, employers, regulators and insurance managers to review their practices.
Charbonneau's bill, which passed both chambers of the Legislature by wide margins, requires that a PBM pass through to the health plan sponsor (usually an employer, but sometimes a union, trade association or government agency) 100% of the rebates it negotiates with drug manufacturers.
For people who buy individual plans, the law requires PBMs to pass along at least 85% of the rebates.
But it remains to be seen whether the law will enable anyone to figure out how much the rebates amount to. Benefits experts say they are among the most indiscernible parts of the health care industry.
"There's money changing hands that nobody is seeing," said Stan Jackson, chief innovation officer for Apex Benefits, an Indianapolis consulting firm that advises companies on employee benefit programs. "It's the most convoluted thing in the world."
In general, PBMs contract with pharmaceutical makers for rebates on prescription drugs that are dispensed to health plan members. The other major player is the pharmacy. Most pharmacies sign contracts with PBMs, agreeing to dispense drugs at certain prices in exchange for getting access to the health plan's members.
Many PBMs use "spread pricing," or the practice of charging health plans for prescription drugs more than they pay the pharmacy. Instead of passing the full payment on to pharmacies, PBMs keep the "spread" as profit while the pharmacies are reimbursed below their costs.
"It's a complicated web in terms of the flow of funds," said Julie Lappas, an attorney and PBM specialist at the Indianapolis-based law firm Hall Render Killian Heath & Lyman. "… I think part of the concern that some folks have with respect to PBMs is, they're not transparent."
Charbonneau acknowledged that the world of PBMs is often convoluted and baffling.
"I have been smack-dab in the middle of this PBM issue for at least five years," he said. "It is a very, very difficult process to understand."
A great start?
The bill had plenty of influential supporters as it advanced through the Legislature. Its backers included the Indiana Manufacturers Association, drugmaker Eli Lilly and Co., several patient advocacy groups, and the Pharmaceutical Research and Manufacturers Association.
"This common-sense legislation is a great start to helping Hoosier patients and small employers who, under the current broken system, pay too much for their prescription medicines," Lilly spokesman Ed Sagebiel told a Senate committee.
The PBM Accountability Project, a coalition of pharmacy associations, labor unions and patient advocacy groups, took out advertisements on several Indianapolis news sites supporting the legislation.
"New Poll: 82% of voters say PBMs should be required to pass discounts to patients," said one advertisement. The source of the poll was not cited by the ad, and the organization did not return two emails from IBJ to discuss its position.
The national trade association for PBMs, the Pharmaceutical Care Management Association, for its part, says the situation is more complicated than that.
"SB 8 does nothing to address the high prices of prescription drugs, which are set by manufacturers alone," Connor Rose, the group's senior director of state affairs, told IBJ in an email. "While the bill's proponents claim that this will provide relief for a narrow population of Hoosiers, the reality is that everyone who receives their insurance coverage through the individual market will be faced with higher premiums."
But the Pharmaceutical Research and Manufacturers Association, the powerful trade group representing drugmakers, said three prominent studies in recent years, including one by Milliman, a consulting group based in Seattle, said this type of law would result in premium increases of less than 1% for patients.
Some insurers pushed back against the legislation as it advanced. CareSource, an Ohio-based managed care company that offers plans in Indiana, said the bill was unclear in defining insurers, was overly broad in defining rebates and was unspecific about who would pay for lower drug costs.
"The best way to lower the price of drugs is to lower the price of drugs," said Joey Fox, a lobbyist representing CareSource. "If the prices weren't so high, my clients wouldn't have to be there, negotiating discounts so that plan sponsors and Hoosiers could actually afford their meds."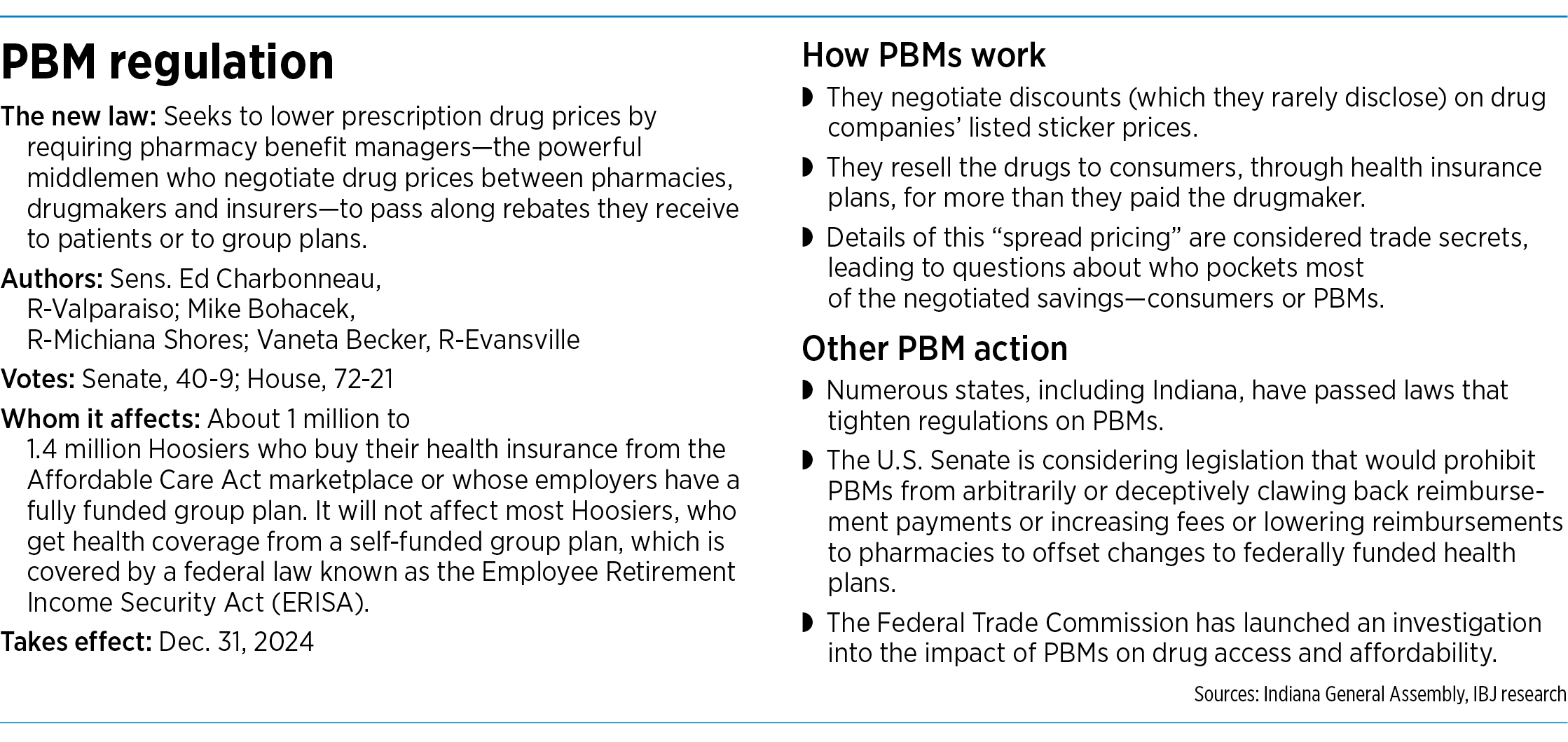 30-year history
In fact, the whole system of drug rebates dates back to the mid-1990s, when 15 major drugmakers agreed to pay $400 million to settle a class action lawsuit. A group of pharmacies had accused them of conspiring to charge them more money for brand-name prescription drugs than they charged to managed care groups, which often tightly restrict which drugs are covered on their formularies.
The pharmacies claimed that the two-tier system of pricing was a result of collusion among drug manufacturers rather than market forces and that it kept prices artificially high for pharmacies.
In response, drugmakers sought to avoid any two-tier pricing setup in the future by offering similar pricing contracts to all purchasers.
But over the years, the use of rebates has ballooned, and PBMs have drawn up a larger and larger list of contracts between drugmakers and health plans.
Several studies say rebates actually climb in lockstep with the list price of drugs and insurance. A 2021 study by the University of Washington, published in the Journal of the American Medical Association, examined cost and price data on more than 400 branded drugs.
It found that rebates were associated with increases in out-of-pocket costs for patients by an average of $6 for those with commercial insurance, $13 for Medicare patients and $39 for the uninsured.
A white paper on the topic published by the University of Southern California in 2020 found that, on average, a $1 increase in rebates was associated with a $1.17 increase in list price.
"Rebates play a role in increasing drug prices, and reducing or eliminating rebates could result in lower list prices and reduced out-of-pocket expenditures for some patients," the paper said.
Some patient advocates say the whole pricing system is flawed as a result, with patients paying higher and higher prices.
"You're paying a premium to get the insurance, but you're not getting Sam's Club pricing," said Huntley of the Diabetes Leadership Council.
More regulation
Indiana, like many states, has begun regulating PBMs in recent years in an attempt to rein in drug prices. Three big players control nearly 80% of the market: Express Scripts (owned by health insurer Cigna), OptumRx (owned by health insurer UnitedHealth Group) and CVS Caremark (owned by CVS Health, which also owns health insurer Aetna).
Four years ago, Indianapolis-based Elevance Health, the insurer formerly known as Anthem Inc., set up its own PBM. Last year, the PBM, known as CarelonRx, rang up operating revenue of $40.8 billion, contributing 26% of Elevance's overall revenue of $155.7 billion.
Likewise, CarelonRx rang up full-year operating profit of $2.3 billion, representing about 27% of Elevance's operating profit of $8.45 billion.
In 2020, the Legislature passed a bill that required PBMs to register for the first time with the state Department of Insurance, which sets up rules on licensure, reporting and business conduct.
In 2021, the Legislature passed another bill that would allow pharmacies to take a complaint about a drug's price to the state insurance commissioner if they and their PBM couldn't resolve the complaint.
But some legislators questioned whether the latest bill was needed and said it was unclear in defining insurers, rebates and other terms.
"We've done, frankly, a lot to move the needle in the health care space," said Sen. Liz Brown, R-Fort Wayne. "But this just adds too much confusion, so I can't support it."
She was one of nine senators, all Republicans, to oppose the conference committee's report on the bill. Forty senators, including all 10 Democrats, supported the bill. In the House, the bill passed by a similarly wide margin, 72-21.
Meanwhile, PBMs are coming under increased scrutiny on the national level. The Federal Trade Commission is continuing with an inquiry it launched last year into the operations of PBMs and has ordered the largest players in the industry to provide a range of information and records detailing how they do business. The U.S. Senate is also considering legislation to tighten regulation on PBMs.
So with all that activity, especially the latest Indiana law, are drug prices going to come down? Will patients pay lower out-of-pocket costs for their daily meds?
"It's too early to say," said Lappas of Hall Render, "and it will be interesting to see, particularly with this kind of Indiana law, what the outcome is to insured individuals."•
Story Continues Below