Black Hoosiers call for racial equity in EV charging plan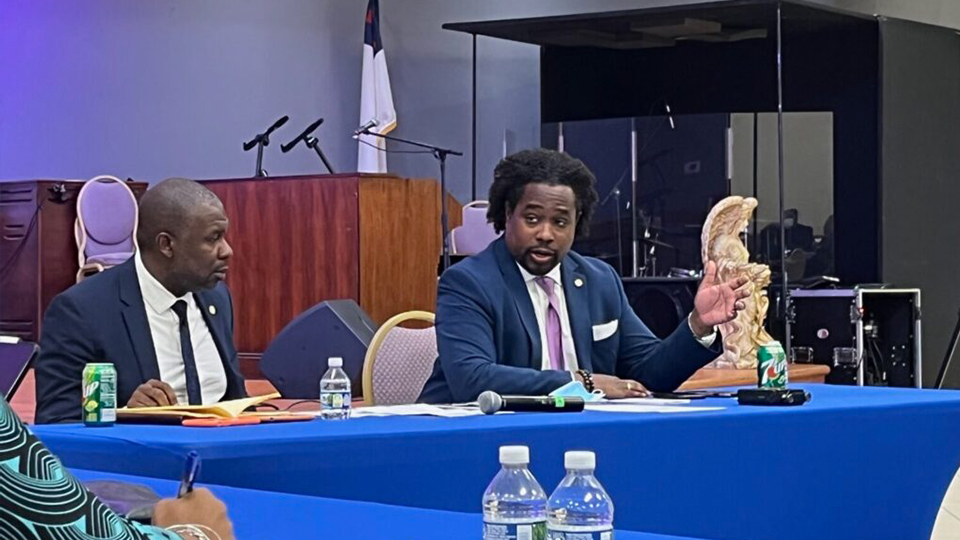 With over $100 million of federal money earmarked for electric vehicle infrastructure in Indiana, a group of Black Hoosiers met with federal Department of Transportation representatives Monday, urging the agency to reject the state's plan in favor of one more equitable to communities of color.
Denise Abdul-Rahman, the environmental and climate justice chair for the Indiana NAACP chapter, said the Indiana Department of Transportation (INDOT) conducted a flawed analysis in its preliminary research and outreach efforts.
"They made it sound like they met with many organizations of color when they have not … they didn't do outreach to us, we did outreach to them," Adbul-Rahman said. "The engagement has not been meaningful at all."
The assembled group, known as the Indiana Alliance for Equity, Diversity and Inclusion of Electric Vehicle Infrastructure and Economic Opportunities is composed of faith leaders, business owners and civil rights activists. Members said the state overlooked Black communities in selecting sites for listening tours, prioritizing rural areas over urban centers.
For example, the listening tour for the northern part of the state happened in rural Plymouth during the day, rather than in South Bend, Gary, Fort Wayne or any other city with a significant Black population. Plymouth was once considered a "sundown town" hostile to Black people.
All three meetings, also held in Indianapolis and Seymour, were capped at 50 people, further diluting the representation of Black Hoosiers, members said.
Changes, more funding possible
Charles Small, the deputy assistant secretary for intergovernmental affairs with the Department of Transportation, said the proposed sites weren't finalized and could change.
"Another thing I just really, really want to emphasize here is that there are also going to be additional opportunities for funding so this is not the only bite at the apple," Small said.
He noted that the initial review of the plans looked at two measurements: Whether proposed sites will be every 50 miles and within a one-mile drive along an interstate.
By design, many of those stations will be in rural areas along the state's various interstates, rather than in populated areas. Small noted that the department had separate discretionary funding available in future rounds of funding, including one allocated by Transportation Secretary Pete Buttigieg, a former mayor of South Bend.
"One meeting isn't going to solve everything and so you have our commitment, not only to have continued engagement with all of us … but we are going to continue to engage on this and make sure they are including equity," Small said.
Abdul-Rahman noted the benefits that communities with the infrastructure will receive, including climate resiliency, less air pollution and manufacturing jobs. Though the plans must include proposals to include minority contractors in building the sites, the group believed the broadness of the federal minority designation would allow the state to bypass Black companies in favor of other minorities, including white women, veterans and other groups of color.
When the state outlined its initial proposal in July, it said 59% of Hoosiers lived in disadvantaged communities, because the term includes rural areas. State representatives at the time said 100% of preliminary sites identified were within 15 miles of a disadvantaged community and 62% were within five miles.
In addition to tracking the number of Black businesses, the alliance wants the state to commit to tracking their equity progress online; including Black Hoosiers in hiring, apprenticeships and partnerships; placing electric vehicle charging stations in Black/ethnically diverse communities and adding a race conscious geo-map; quantifying project greenhouse gas reductions; and creating an Equity Advisory Board to guide the state's working group.
Small and Maurice Henderson, a senior advisor to Buttigieg, encouraged the group to continue working with INDOT and pushing for more equity. The two met with representatives in Gary earlier Monday morning and left the meeting after one hour to meet with IndyGo on a separate issue.
James Mosley, an attendee, noted long-standing environmental injustices in Evansville, including a superfund site, industrial pollution and old housing stock with lead pipes. The majority Black part of the city is also enclosed on three sides by highways, degrading the area's air quality.
He wanted Evansville to get more attention in the electric vehicle infrastructure rollout to mitigate those pre-existing problems, hopefully improving the air that children breathe.
"You've got that perfect storm of environmental crises," Mosley, with the Evansville NAACP, said. "Kids will go to school in a clean environment."
The state submitted its plan in July, anticipating a review and approval by September 30.
Story Continues Below