Beleaguered Morales emerges victorious in secretary of state race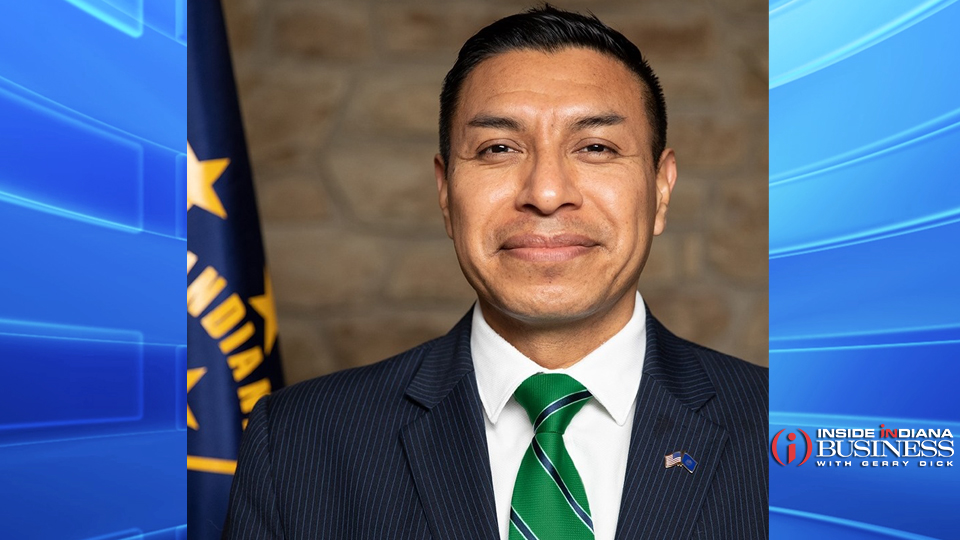 Despite numerous controversies dogging his campaign, Republican secretary of state candidate Diego Morales emerged victorious Tuesday night, ending Democrats' bid to land their first statewide election victory in a decade.
Morales spoke to GOP supporters at the JW Marriott at about 9:50 p.m., shortly after Indiana Republican Chairman Kyle Hupfer declared him the winner. At that time, he had about 55% of the vote to Democratic opponent Destiny Wells' 40%, with about 66% of the ballots counted.
"Hoosiers have once again shown that they trust the Republican Party to run free and fair elections in Indiana and have rejected Democrats' efforts to reduce the integrity of them," Hupfer said in a statement.
Many political pundits had expected it to be a much closer race due to the laundry list of allegations against Morales–something the candidate appeared to reference in his speech to the GOP faithful.
"The truth always prevails," Morales told the crowd. "Let me say that again. The truth always prevails."
Get full election coverage from our partners at the IBJ by clicking here.
The allegations against Morales started piling up during his last run for public office in 2018 when he lost in a multi-candidate congressional primary to Jim Baird, who ultimately won the 4th District congressional seat.
During that campaign, Morales was criticized for embellishing parts of his resume, including his work as an aide for then-Gov. Mike Pence and his time in the Secretary of State's Office. Those allegations followed him in this year's campaign and were joined by a litany of other incidents and accusations:
Records show Morales was fired from the Secretary of State's Office in 2009 under then-Secretary Todd Rokita for failing to agree to a work-improvement plan. When he landed another job in the office in 2011 under then-Secretary Charlie White, he was disciplined for failing to complete work.
Morales was accused of exaggerating his military service. He spent three months and 18 days on active duty as part of his training period and separated from the Indiana National Guard three years before his eight-year commitment was over, according to military records.
In September, two women came forward to accuse Morales of unwanted sexual advances that allegedly occurred more than a decade ago. He has denied the allegations, calling them "politically motivated."
Morales declined to participate in at least two public debates.
More recently, Morales was accused of voting in Hendricks County during his 2018 campaign while claiming a homestead deduction on his Marion County property.
Instead of debating, Morales said he would rather focus his energy on traveling the state's 92 counties, which proved to be a winning strategy.
Morales has vowed to strengthen the state's existing voter ID law by making absentee voters provide a copy of their driver's license with their voting application. To increase voter turnout, he said he would roll out public campaigns to educate Hoosiers about the voting process.
Despite his beleaguered campaign, Morales earned the backing of several high-profile Republicans, including Rokita, former Secretary of State Ed Simcox, former Vice President Mike Pence and Gov. Eric Holcomb.
Wells' first campaign
Wells addressed her supporters in a speech Tuesday night in which she urged them to continue to fight for the party in future elections.
"We were on the precipice of an amazing opportunity for Indiana with this office," Wells said. "We were about to flip Indiana blue for the first time in a decade. But we fell a little short."
Mike Schmuhl, chair of the Indiana Democratic Party, warned that Morales' victory could undermine the state's election process.
"The Republicans nominated somebody at their convention who is dangerous for this state," Democratic Party Chair Mike Schmuhl. "And unfortunately, we're about to see what that looks like."
In what was her first campaign for public office, Wells often touted her working class roots in rural Morgan County and her military service. The first in her family to attend college, she joined the Indiana Army National Guard shortly after 9/11, served in Afghanistan and went on to earn the rank of U.S. Army Reserve lieutenant colonel.
Wells has volunteered for Democratic campaigns and worked as associate corporation counsel for the city of Indianapolis and Marion County and, later, as deputy attorney general for Indiana under Curtis Hill.
Her campaign for secretary of state officially launched on Jan. 6, 2022, one year after the insurrection at the Capitol.
Wells was critical of her opponent, pointing to his earlier position that the 2020 election was a "scam." Morales has since said that Joe Biden won the election.
She has said Indiana "is a purple state with a turnout problem," noting that Hoosiers typically rank in the bottom 20 percentile of states when it comes to voter turnout.
To increase turnout, she advocated for removing restrictions on absentee mail-in voting. Currently, Hoosiers must provide one of 11 excuses when requesting a mail-in ballot, which can include senior citizen status, military service or being sick or disabled
Story Continues Below