Back 9 Golf to open in downtown Indy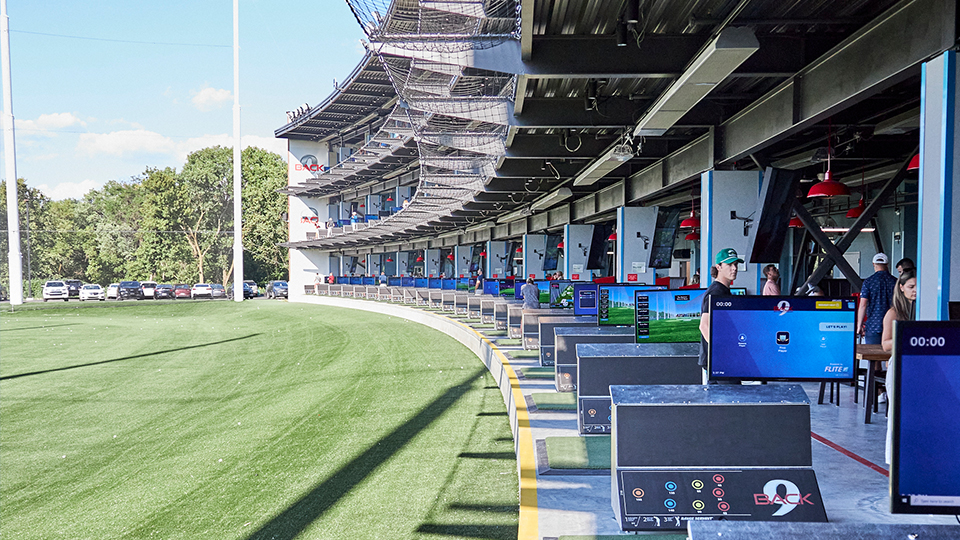 A much-anticipated, $30 million golf and entertainment venue will open Friday on the near southwest side of downtown Indianapolis. Back 9 Golf & Entertainment features a three-story golf range with 75 climate-controlled golf bays, restaurant and a 550-person music pavilion. "We're hoping our venue is the first of many that choose to come this way, and we want to keep visitors in downtown Indy," said Director of Operations Patrick Dugan.
In an interview with Inside INdiana Business, Dugan said he hopes the venue will serve as a catalyst for additional development in the area.
"This is definitely an attraction for people to come take a look at," Dugan said. "There's really nothing over on this side of town. We are looking forward to the Indy Eleven stadium being built as well, which will drive some more traction down here. But we're also hoping for this area to grow – just like the rest of Indianapolis has grown over the course of so many years- that this is kind of the first staple on the south side."
The facility is located near West Morris Street and Drover Street along the White River, close to Lilly Technology Center's north campus. It also features an outdoor beer garden and a game area.
In a May interview with Around INdiana Reporter Mary-Rachel Redman, Back 9 founder Neal Burnett said the facility offers a place not only for golfers to practice their swing, but actually get digital feedback.
"It's a radar-based gaming system, and it puts you in half virtual reality and half reality. So, you'll strike the ball in reality out of these bays, they'll fly in the field, then they're tracked," said Burnett, who explained it's like watching the PGA when they apply digital golf balls on screen to track them.
Dugan says the music venue will be a key focus for the attraction as well.
"We really want to get people out here not just to play golf; we want them to come out and enjoy the venue and all of our live bands," he said. "We've got bands booked every Friday and Saturday right now until almost the end of October."
Back 9 will be open Sunday through Thursday from 10 a.m. – 11 p.m. and Friday and Saturday from 10 a.m. – 1 a.m.
Story Continues Below