Details Emerging on Amazon Link to Fort Wayne Project
The architect, developer and contractor associated with "Project Mastodon" all have something in common: A track record of bringing to life warehouses for the same company – Amazon. But that's not the only reason all signs point to the online retail giant as the occupant of a proposed distribution center along US 30 in far west side of Fort Wayne.
Another clue lies within a 272-page filing with the state of Indiana. On Line 139 of a design log within an architecture plan for the facility, is the notation, "Amazon Signage Standards V1.01."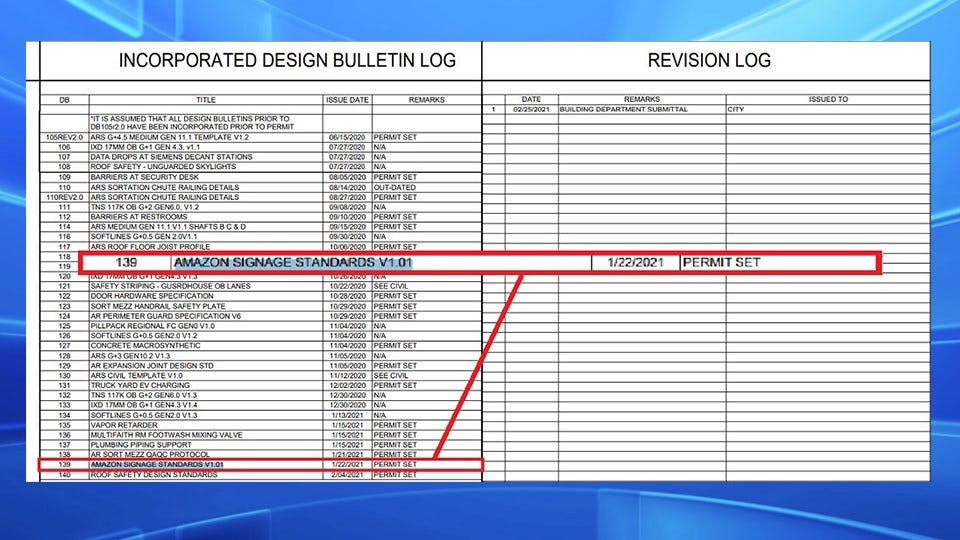 It's the first time WPTA-TV has found a reference to Amazon, by name, in the numerous documents and permit applications submitted as part of the approval process for the 2.9 million-square-foot building to be located across from the headquarters of Sweetwater.
Coast to coast and over several years, it has been a practice of Amazon to launch development efforts under a veil of secrecy.
In Nampa, Idaho — "Project Bronco."
In Knoxville, Tenn. — "Project Pearl."
In Spokane, Wash. — "Project Rose."
In Fort Wayne, officials who are involved in the process have signed a nondisclosure agreement regarding "Project Mastodon."
But it's become clear who is behind it. The actual development of "Project Mastodon" is driven by three companies that have an established relationship with Amazon. The same 272-page filing that makes reference to "Amazon Signage" lists those key members of the Project Team:
Ambrose Property Group (listed as landowner and developer) is the same company that purchased land from the Fort Wayne-Allen County Airport Authority, turning that site into the in-progress Amazon warehouse to be located on Airport Expressway between Smith Road and Coverdale Road. Ambrose has been a stakeholder in at least one other Amazon project in Indiana: a new fulfillment center in Greenfield.
Ware Malcomb, based in Denver, Col., is the architect for "Project Mastodon." That same firm has handled multiple designs for Amazon, including recent ones in Fresno, Cal., and Channahon, Ill. "Project Bronco," in Idaho? It was another Ware Malcomb design, opening as an Amazon fulfillment center last November.
Layton Construction, of Sandy, Utah, is listed as contractor. That company's online portfolio includes several new Amazon facilities. WPTA found others, such as this Amazon fulfillment center in El Paso. The aforementioned "Project Rose" in Spokane? That was a Layton-built facility, and also turned out to be Amazon. The company's Twitter page ties it to additional Amazon developments.
In recent weeks, the Fort Wayne Plan Commission has cleared the way for the 110-foot tall building, lifting size limitations that would have restricted the scope of the project — and possibly scuttled it.
WPTA has learned that the online retailer will formally reveal itself when it seeks another tax abatement on the machinery that will be used within the warehouse.
That is expected to happen in April or early May.