Airport authority to buy nearly 58 acres near Mount Comfort airfield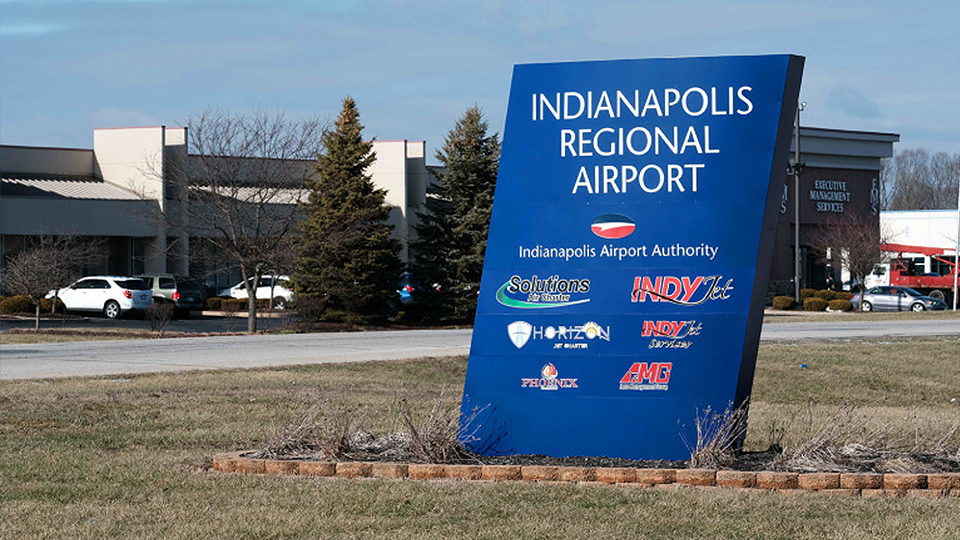 The Indianapolis Airport Authority's board has approved plans to acquire about 58 undeveloped acres northeast of its regional airfield in Hancock County, with plans to eventually incorporate the land into the its master plan.
The purchase, first reported by the Greenfield Reporter, comprises two parcels totaling 57.6 acres owned by Steele Family Properties LLC at 4191 West County Road 500 North in the Mount Comfort commercial corridor.
The authority's board authorized spending about $2.99 million for the site during its June 24 board meeting, but the sale has not yet closed.
The decision to buy the land adjacent to Indianapolis Regional Airport comes as the authority works through its master plan for the property, which could include reorienting its north-south runway and separating it from the east-west runway to meet Federal Aviation Administration requirements. The master planning effort is expected to continue through the end of 2022, with plans of presenting for approval sometime in 2023.
"We know there is a lot of potential for that airport to continue to grow into the future," said Marsha Stone, senior director of commercial enterprise for the Indianapolis Airport Authority. "So, as we look at our existing runways … through our planning efforts and envisioning 20 years into the future, there's a potential for realignment or extension of those runways, to allow for growth, more flexibility and, potentially, larger aircraft."
Stone said the airport isn't expected to become another large commuter airport like Indianapolis International. Rather, its continued purpose will be focused on corporate travel and smaller aircraft—albeit with the possibility that the facility could also accommodate some cargo shipments, although that's likely not to occur for a few decades.
"Depending on the alignment and potential extension, there is the potential in the future there could be some cargo that could come in and out of that airport," she said. "All of that I think will play out more as we work our way through the master plan. It's a great airport and in a great position. Right now, you don't see that type of utilization, but could there be in the future? We don't want to close any doors to that."
Stone said the decision to buy the Steele property came after seeing the swiftness with which developers have moved to acquire thousands of acres near the airport for their own projects.
Mount Comfort has seen extensive growth in the past four years, with dozens of large warehousing and logistics facilities popping up along and near County Road 600 North. Among them, Walmart has developed a 2.2 million-square-foot structure about one mile north of the airport.
The airport authority doesn't have plans to acquire additional land near the property, but that could change as the master planning process continues.
"Since there's so much growth and development happening out in that area, we wanted to just make sure we secure this important piece of land," Stone said.
Story Continues Below