Cook Medical Invests in Indy Food Desert
A poverty-stricken neighborhood on the near northeast side of Indianapolis could have a new grocery store by next year. Bloomington-based Cook Medical Inc. is leading a coalition of corporate, nonprofit and neighborhood organizations, including Goodwill of Central & Southern Indiana, to build the 14,000-square-foot store in an area considered a food desert.
The Indy Fresh Market would be constructed near 38th street and Sheridan Avenue, an area of high unemployment and poverty.
"Food deserts exist throughout our state," said Pete Yonkman, president of Cook Medical and Cook Group, one of the leaders behind the initiative. "The challenges around food insecurity exacerbates already present health inequalities that can impact many generations to come."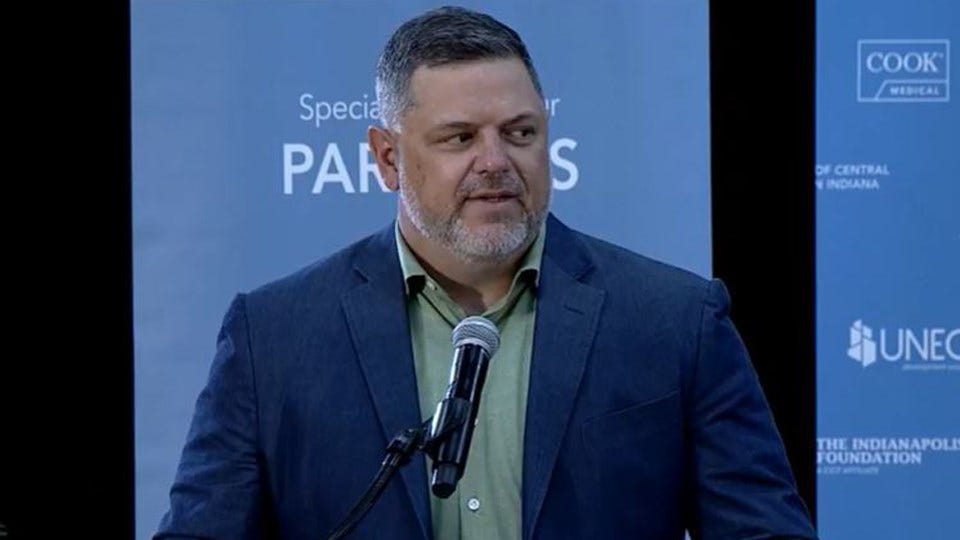 Plans are for the new, full-service grocery store to be constructed on property near the Cook Medical/Goodwill Commercial Services facility, which is also under construction in the neighborhood.
Organizers say construction of the medical equipment plant, which was announced last fall, helped spark the idea to build a grocery store in the underserved area of the city.
The new store will be operated by two neighborhood entrepreneurs, Michael McFarland and Marckus Williams.
The business partners opened a small grocery last summer on East 38th street called the Wall Street Market. It was not much bigger than a convenience store, but they offered fresh produce and dairy products.
The goal is for the Indy Fresh Market to advance that dream.
"This area has become known as the city's hotspot for high crime, low income. And on top of that, a food desert," said McFarland. "There are still not many healthy food options, and for some, little hope. That's what we want to bring back to our community. We want families to feel safe, walking down the aisles and connecting with the neighbors and the fresh market."
Using a lease-to-own model, the intent is that McFarland and Williams will eventually own the real estate in addition to the grocery store operations.
The organizations hope this initiative will become a model that can be replicated in other parts of the city, state and beyond.
"Michael and Marckus are beginning the journey today. And to be honest, the outcome isn't certain. It's not guaranteed. There's gonna be risks. There's gonna be challenges," warned Yonkman. "But if they're successful, they'll have done one of the hardest things I think that we as humans can do. They will have begun to reverse the cycle of economic downturn. And they can serve as a model for what we as all as individuals can do to bring those fundamental institutions back to our community."
Cook Medical will build the store and IMPACT Central Indiana will provide start-up capital. The goal is to start construction this August and open the store next summer.
Click here to learn more about effort.
To view Thursday's news conference, click this link to the Cook Medical Facebook page.