Activists call on AES Indiana to retire coal-fired Petersburg plant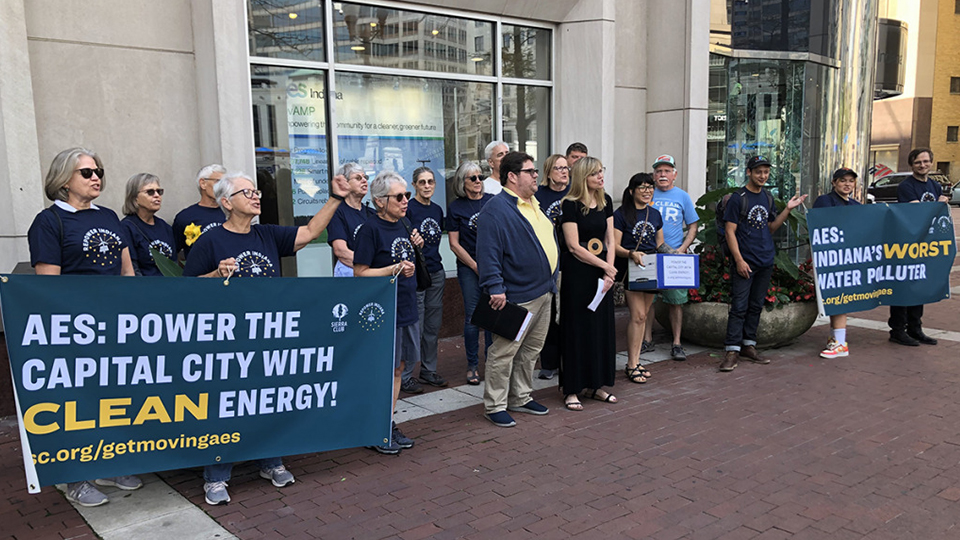 The largest and dirtiest power plant in AES Indiana's fleet is coming under renewed criticism for violating its air and water permits and for maintenance problems that have contributed to higher customer bills.
About two dozen activists gathered Wednesday in front of the Indianapolis utility's headquarters on Monument Circle to call for company officials to retire the coal-fired Petersburg Generating Station in southwest Indiana.
The group delivered more than 2,600 petitions calling for AES Indiana (formerly Indianapolis Power & Light Co.) to move to 100% renewable energy, including solar, wind, energy efficiency and battery storage.
"It is long past time for AES to commit to ending coal burning and retire Petersburg," said Wendy Bredhold, senior campaign representative for the Sierra Club's Beyond Coal campaign for Indiana and Kentucky. "And that power must be replaced with clean energy, not gas."
A spokeswoman for AES Indiana said the company has made no decision about the future of the plant. Last year, the utility retired one of the plant's four coal-fired units and has said it would retire a second unit by 2023.
The future of the two remaining units at Petersburg remains up in the air. AES Indiana said it is in the middle of gathering community comments about its generating fleet as it prepares to update its "integrated resource plan," a 20-year strategy for generating power that all electric utilities in Indiana are required to file every three years.
AES Indiana said it would formally file its plan by the end of the year with state regulators. "AES Indiana is evaluating multiple scenarios for the Petersburg plants, including no retirement, refuel to 100% gas, retiring one unit in early 2026 and retiring two units early in 2026 and 2028," the utility said in a statement Wednesday.
Under current permits, the Petersburg plant can remain online until at least 2042.
AES Indiana has stopped using coal in recent years at two other generating plants—Harding Street in Indianapolis and Eagle Valley in Martinsville.
The Petersburg plant has been called a "super polluter" by environmental groups and even by the Indianapolis City-County Council, which passed a resolution in 2017 calling for AES Indiana to cut back on coal and the resulting carbon emissions.
The group of activist on Wednesday held a short rally and delivered speeches calling AES Indiana the state's worst water polluter and asking for more clean energy.
In June, the Indiana Department of Environmental Management notified AES Indiana that the plant exceeded its water discharge limits in recent months for mercury, boron and iron and for violating its air-emissions permit.
Last year, the Petersburg plant also suffered a slew of maintenance problems, from tube leaks to grounded generators, caused the units to go offline repeatedly during the summer.
All the outages at Petersburg, combined with extensive maintenance problems at the utility's Eagle Valley generating plant, caused AES Indiana to buy about $1.2 million worth of power from the Midcontinent Independent System Operator, better known as MISO, and pass along costs to customers, on top of their normal bills.
Some activists say AES Indiana should move faster to retire the Petersburg plant..
"They have dragged their feet for far too long on a clean energy transition," said Kerwin Olson, executive director Citizens Action Coalition of Indiana, a utility watchdog group. "…They are making energy unaffordable for Hoosiers and exacerbating the climate crisis. There's a better path forward."
The Petersburg plant is in Pike County, about 120 miles southwest of Indianapolis.
AES serves about 500,000 customers in central Indiana. It is a unit of Arlington, Virginia-based AES Corp.
Story Continues Below