16 Tech Seeks Designers for Bridge Project
The 16 Tech Community Corporation is moving forward with plans for a $14.5 million bridge at the 16 Tech Innovation District near downtown Indianapolis. The organization has issued a request for qualifications and proposals from design teams nationwide for a bridge that will span Fall Creek and link the planned $500 million development with neighborhoods, trails and research assets at IUPUI and the Indiana University School of Medicine.
The 16 Tech Innovation District is a 50-acre development located on the near northwest side of Indianapolis. It is envisioned as a home for life science, technology and advanced manufacturing companies that will attract talent from around the globe to Indianapolis.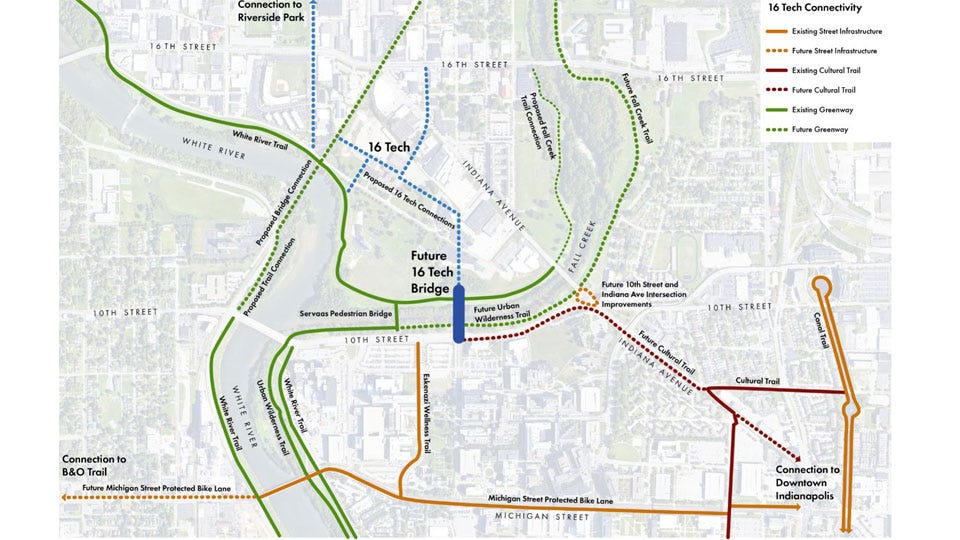 The bridge project has received funding from Lilly Endowment Inc. and city of Indianapolis.
Construction on a new research and office building as well as the renovation of the former Indianapolis Water Company building into an Innovation Hub are also currently underway at the property.
"The 16 Tech bridge will be more than a physical structure that allows people to travel from one place to another. It will be a landmark connector of people and ideas, which is at the heart of 16 Tech," said Bob Coy, president and Chief Executive Officer of 16 Tech. "16 Tech is looking for the best and most thoughtful designers to help create an emblem of innovation, ultimately making this one of the most beautiful places in our city."
A selection committee has been formed to vet applications, which are due by March 12.
The committee includes:
Marya Rose (chair), 16 Tech board member and vice president/chief administrative officer, Cummins Inc.
Matt Shaw, contributing editor, Architect's Newspaper
Shin-pei Tsay, director of Policy, Cities and Transportation, Uber
Sara Zewde, founding principal, Studio Zewde
Vop Osili, Indianapolis City-County Council President
Dan Parker, director, Indianapolis Department of Public Works
Adam Thies, associate vice president, Capital Planning and Facilities, Indiana University
For more information, click here.
16 Tech Chief Operating Officer Emily Krueger will appear this week on Inside INdiana Business with Gerry Dick to talk more about the project.
Story Continues Below