Resonado Takes Speaker System to Watercraft
Chicago-based Resonado Labs, an audio technology startup launched by three University of Notre Dame students in 2018, hopes to make a big splash in the boating sector. The company is partnering with Elkhart-based Lippert Components Inc. in the development of a concept marine sound system.
The technology was unveiled at the International BoatBuilders' Exhibition and Conference in Tampa, Florida.
Resonado says its Flat Core Speaker technology will be available to boat makers for model year 2023 with Lippert being the officially licensed distributor.
"By collaborating with Lippert, we're able to bring audio innovation to the marine industry in a big way quickly and cost-effectively. Our vision is to work together to reinvent marine audio – not only by introducing the first truly novel speaker technology the industry has seen in a hundred years, but also by providing designer systems tuned to provide experiential audio," said Brian Youngil Cho, Resonado Labs co-founder and chief executive officer.
Since the FCS is slim, product designers can integrate the speakers into tight spaces in acoustically optimal locations on boats and pontoons.
Lippert has a concept pontoon boat on display at IBEX that features the Resonado system. It is built into poles of the frame of a sunshade. Lippert also placed the sound system into the pontoon furniture.
"Lippert and its marine brands have a long history of innovation in the marine space by taking product designs that haven't been changed in years, sometimes decades, and reimagining them, giving the consumer a more enhanced experience," said Jason Lippert, CEO and President of Lippert. "And integrating the sleek, premium Resonado sound system into this product truly takes the user experience to the next level."
Resonado's technology was first commercially available earlier this summer in Airstream Touring Coaches, a luxury RV manufactured by a subsidiary of Elkhart-based THOR Industries (NYSE: THO).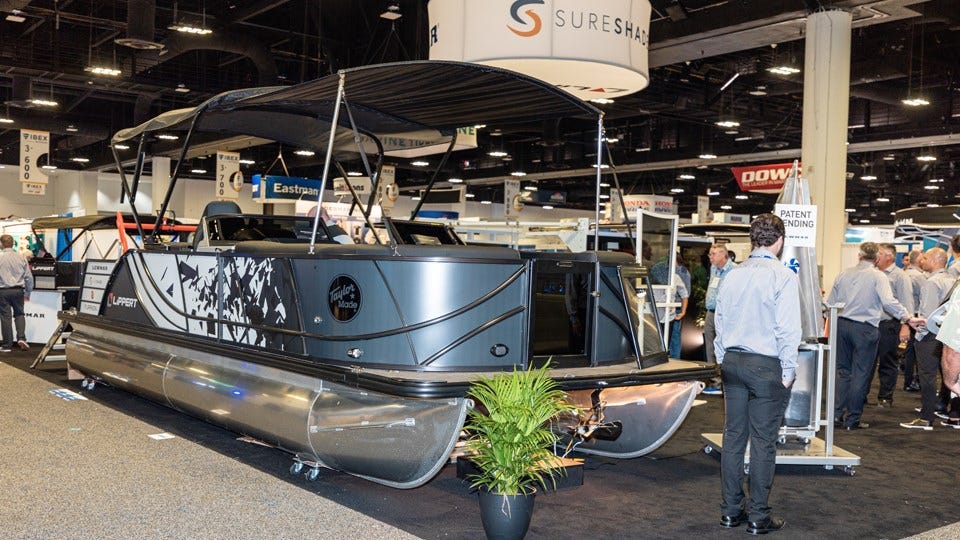 Story Continues Below