Conexus Indiana Names 2022 Rising 30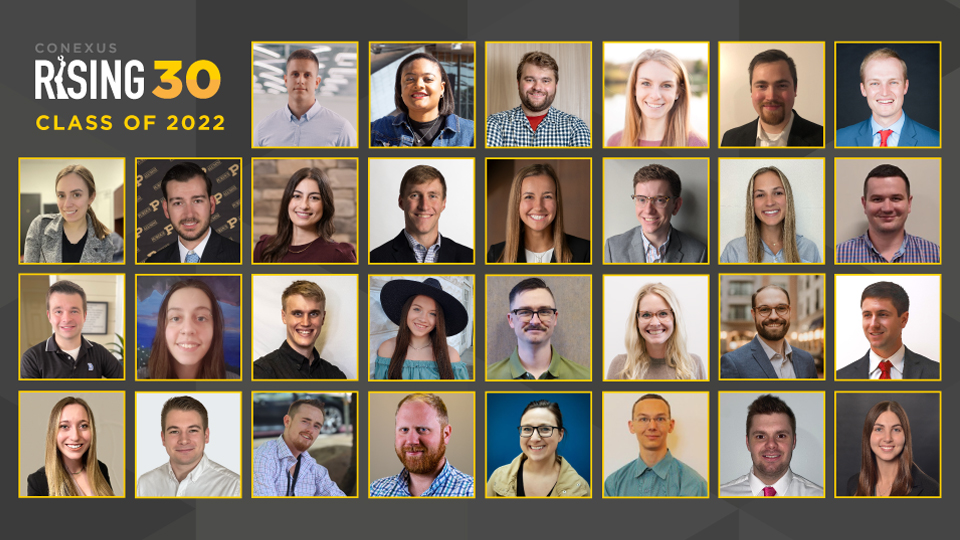 Conexus Indiana has named 30 young professionals to its 2022 Rising 30 cohort. The organization says honorees represent top talent under the age of 30 who will drive Indiana's advanced manufacturing and logistics industries into the future.
Conexus Indiana, which one of the Central Indiana Corporate Partnership nonprofit initiatives, says this year's honorees represent a variety of professions from companies located throughout the state, including Bloomington, Evansville, and Elkhart, among others.
"This year we are honoring 30 young professionals who not only are doing amazing work now, but who will help our industries lead during a time of dramatic change," said Fred Cartwright, chief executive officer of Conexus Indiana. "This is the second year for Rising 30, and now we can count 60 young industry leaders who will inspire the next generation of talent and be at the forefront of new technologies, such as 3D printing, artificial intelligence and cobots, that define the 4th Industrial Revolution and beyond."
The organization says the honorees will play an important role in its work, supporting areas ranging from emerging technology and smart manufacturing to public policy and talent development.
The 2022 honorees are listed below:
Jack Anderson, Engineering Manager, PWR North America
Grace Beach, Supply Chain Management Rotational Development Associate, Roche Diagnostics
Brittany Busse, Production Engineer, Cook Medical
Jacob Coffing, Director of Testbed Operations, IN-MaC Purdue University
Matthew Cooper, Group Leader of IPC Engineering, Subaru of Indiana Automotive
Kerry Egan, Chief of Staff, OAI Global
Max Faiman, Product Engineer, Indiana Furniture
Elizabeth Fisher, Supply Chain Supervisor, Kem Krest
Vivian Galey, high school student, Perry Central Commodore Manufacturing
Gina Gianfagna, External Manufacturing Operations Leader, Corteva Agriscience
Malachi Greb, CEO, Elite Automation
Jena Hammonds, Lathe Department Assistant Manager, Konrady Plastics
Kalese Howse, Safety Operations Manager, Toyota Motor Manufacturing Indiana
Kelsey Huelsenbeck, Chief Operating Officer, Antique Candle Co.
Michael Hurst, Controller, Stellantis
Kevin Keith, Chief Technology Officer, MITO Material Solutions
Jack Lopez, Graduate Researcher, Purdue University
Henry Lynch, VP of Product, Vsimple
Jessica Meeks, Health and Safety Manager, Adidas
Charles Messmore, Electrical Engineer, Honda
Bryan Ott, Inventory and Production Specialist, California Closets
Jacob Perkins, Manufacturing Engineering Team Lead, Amatrol
Brandon Ruggles, Manager of Strategy and Operations, LDI Ltd.
Paige Sandel, Corporate Controller, WishBone Medical
Natalie Scott, Industrial Engineer, Cummins Inc.
Alex Topalovic, Management Analyst, enFocus
Christopher Tracy, Junior Environmental Engineer, Heritage Environmental Services
Tommy VanHook, Production Engineering Manager, TBK America
Kyle Varble, Global Commodity Manager, Rolls-Royce
Caleb Wayman, AIM Site Director, Vincennes University
"The advanced manufacturing and logistics industries account for more than 30 percent of Indiana's economic output and employ more than 600,000 Hoosiers," said Indiana Governor Eric Holcomb. "Recognizing young professionals who contribute meaningfully to Indiana's largest industry sectors is incredibly important and helps to shine a light on the many rewarding career opportunities available in advanced manufacturing and logistics. I'm thrilled to join Conexus in honoring these young professionals and eager to see how they lead the industries into the future."
You can view last year's honorees by clicking here.
Conexus Indiana says nominations for the 2023 cohort will be accepted beginning November 1.
You can view biographies for each 2022 honoree by clicking here.
Story Continues Below