Brad Chambers to step down as secretary of commerce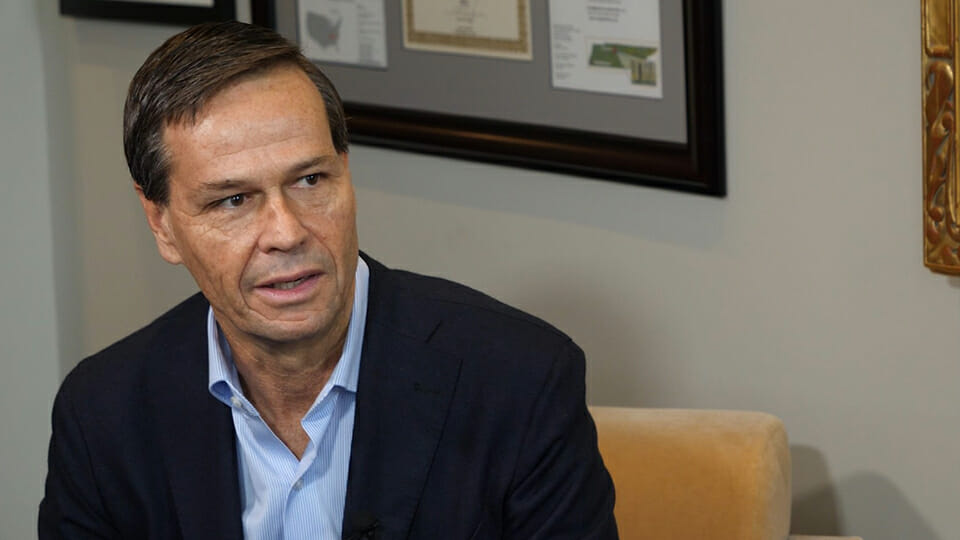 Brad Chambers, Indiana's secretary of commerce who led the Indiana Economic Development Corp. during two years of record economic investments and fundamentally changed the way the state attracts businesses, is stepping down.
Chambers, 59, announced his decision Monday and will leave the job effective Aug. 6. His departure was somewhat expected. Chambers signed a two-year contract with the state when he accepted the post in June 2021. Still, his departure increases speculation that he is considering a run for governor in 2024 amid a crowded Republican field that already includes four announced candidates.
IEDC spokeswoman Erin Sweitzer said in an email that Chambers has "not yet indicated his future plans." She did not respond directly to questions about whether he is pondering a run for governor.
The longtime real estate developer, who was appointed secretary of commerce by Gov. Eric Holcomb following the resignation of Jim Schellinger, has set a high bar for his successor.
Under his leadership, the IEDC landed more than $30 billion in committed capital expenditures from companies looking to expand or move their operations to Indiana, according to the state agency, including a planned $3 billion electric vehicle battery cell plant in northern Indiana, a $2.5 billion EV battery facility in Kokomo and Eli Lilly and Co.'s $3.7 billion manufacturing campus in Boone County.
Chambers also oversaw the early developments of the LEAP Innovation District, a planned 10,000-acre technology and manufacturing hub near Lebanon that could serve as the blueprint for additional commercial and industrial parks across the state. LEAP is an acronym for "Limitless Exploration/Advanced Pace."
IEDC's purchase of huge parcels of land to create the LEAP district represented a shift in the way the state is working to attract companies and create jobs, but it also angered some property owners who said the state initially was too secretive about its intentions.
The new approach is meant to help Indiana compete for the nation's biggest high-tech economic development opportunities. Rather than letting local governments take the lead in planning a shovel-ready project that the state would then market, with LEAP, IEDC took on the responsibility for acquiring land and master-planning the site.
In the most recent legislative session, state lawmakers allocated an additional $1.2 billion to the IEDC, including $500 million for a deal-closing fund, $500 million for the Regional Economic Acceleration and Development Initiative (known as the local READI grant program) and $150 million for a revolving land acquisition fund.
Chambers founded Indianapolis-based powerhouse real estate development firm Buckingham Cos. while a student at Indiana University in 1984. Buckingham develops, builds and manages residential and commercial projects while running several real estate investment funds, with total investments exceeding $3 billion.
While in office, Chambers reduced his day-to-day involvement at his company, which was ineligible for state incentives during his two-year contract. He declined to take a public salary.
He visited 20 countries and territories during his tenure, helping to establish and build on partnerships with government officials and business leaders in Asia, Europe and the Middle East.
Chambers previously served as chair of the Indiana State Fair Commission and on the boards of Downtown Indy, Inc., the Indianapolis Neighborhood Housing Partnership and the Indianapolis Museum of Art.
Should Chambers enter the race for the Republican nomination for governor, he would face several candidates who already have a huge head start in fundraising.
New campaign finance reports show U.S. Sen. Mike Braun raised more than $2.2 million during the first six months of this year for his gubernatorial bid and has $4.6 million in cash on hand. Lt. Gov. Suzanne Crouch reported raising $1.1 million so far this year and has $3.8 million in cash on hand, while Fort Wayne businessman Eric Doden raised $1.7 million in the past six months and has $3.8 million cash on hand.
Former Indiana Attorney General Curtis Hill officially entered the race last week.
Story Continues Below